Gerard Kinsella: Stupidity led to two-year drugs ban from football

By Richard Conway
BBC Sport
From the section Football
Fleetwood midfielder Gerard Kinsella was given a after testing positive for an anabolic steroid earlier this week.
In his first interview since the ruling, the 21-year-old Liverpudlian, once on the books of Everton, discusses the reasons he took the banned drug, how his football dream has been shattered, and what the future now holds.
Across the street from Gerard Kinsella's house are a group of young boys kicking a football around on a patch of grass.
The sun is beginning to set and soon they will head home reluctantly to dream of swapping goalposts painted on a brick wall for the lush, green turf of Goodison Park or Anfield.
The makeshift game reminds Kinsella of his own childhood. He played on the same patch of grass in central Liverpool, pretending to be Paul Scholes, the player he admired most.
"It wasn't even a dream back then," Kinsella says. "I just wanted to play football."
Kinsella's hopes of a professional career aren't over but they are hanging by a thread. The 11 years he spent at Everton under manager David Moyes, in the academy as a seven-year-old and then later as a professional, are distant memories now.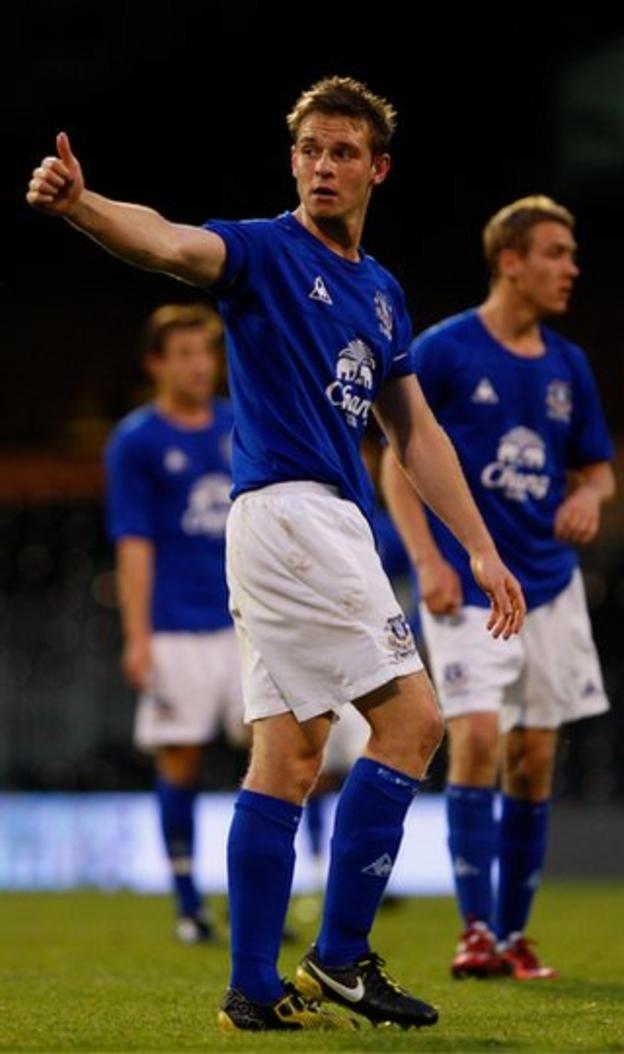 On Tuesday, the FA handed him a two-year suspension for taking nandrolone, a banned anabolic steroid.
On the day we meet, he arrives after completing a training course that will enable him to start a new career clearing asbestos.
At 17, just four years previously, Kinsella had signed a three-year contract with Everton, the team he supports.
"I was buzzing," he recalls. "I couldn't wait to sign. I thought I was a footy player already. But if I knew what I know now... you're still millions of miles away."
Kinsella survived the annual culls at Everton's academy to claim his first professional contract.
"I didn't even think of anything else, I didn't have a plan B," he says. "It was just football. It's all you know, it's all you want to do. It was more of a dream than a job but, to get to the proper level, you've got to dream."
Shortly after signing as a professional, things turned sour for Kinsella. A catalogue of injuries between the ages of 16 and 19 forced him to deal with physical and psychological pain.
"With the injuries I've had, I feel more like a veteran 35-year-old centre-half," he jokes.
Peeling back his shirt sleeve, Kinsella displays deep scars on his left shoulder, lasting marks from five separate dislocations and two operations. He reels off his list of injuries with grim familiarity.
"I've done my ankle four times, chipped a bone in my leg, I've done my metatarsal. Then there's the shin splints and my shoulder. In 2011, I got meningitis. I went down to about nine stone. That was a bad one."
At 19, he was summoned into an office at Everton. "I'd read the script," he recalls. "I'd seen it coming."
The club told him they were ending his contract. "I was gutted," he adds. "I support Everton, I had a season ticket all my life. They sat me down and told it was best I go elsewhere.
"I'm not bitter towards them but there's nothing worse than being labelled as the lad who's always injured. You're useless, aren't you?
"It stressed me out if I couldn't play and other lads were playing. You're a ghost. If you're not playing, you're not doing your job."
He went for a trial with Plymouth Argyle, managed at the time by former Everton midfielder Peter Reid. As Kinsella attempted to connect with a ball in one of his first training sessions, he ripped the cartilage in his knee.
Without a club, he spent the next eight months on his sofa with only his mum and daytime television for company.
"I was depressed," Kinsella says. "I just wanted to play football. Sitting on the couch, bored out of your brains, no-one's looking after you. You have to rehab yourself."
On regaining fitness, he was signed by Fleetwood Town at the start of the 2012-13 season. They may have been a club in League Two but, as Kinsella recalls, they clearly had ambition.
But the injuries just did not stop. A twisted knee and more shoulder issues left him on the sidelines yet again.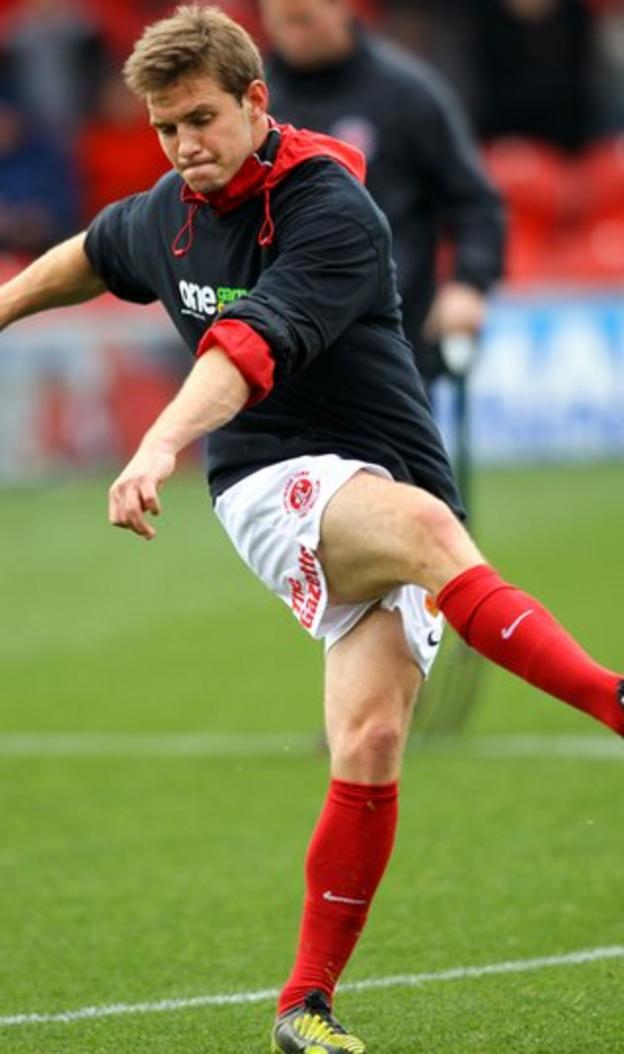 "We had a game against Oxford in late November," he says. "The game got called off and I was on the train home with the team when one of the lads pulled my arm. My shoulder came out from its socket and went straight back in."
A month later, and still in considerable pain, an older cousin came to visit.
A taxi driver and father figure to Gerard growing up, he told him he could help. His own back pain, he said, was relieved by the injections he took.
Kinsella asked if the pain relief was legal and was assured it was. "It was two injections," says Kinsella. "That was it."
Eight weeks later, in February of this year, the drug testers called unannounced at Fleetwood's training ground and Kinsella was randomly selected to provide a urine sample.
Initially, he could not understand why he had tested positive. Had his drink been spiked? Had he eaten something he shouldn't?
Then he remembered the injections.
"I was on the way home and called him in the car, screaming," Kinsella says. "I was furious."
His cousin told him the injections were a substance called "deca". A slang word for nandrolone decanoate. It is a powerful anabolic steroid that can aid muscle growth and ease pain in joints.
"I couldn't believe what had happened," Kinsella adds. "I was in shock. He tried to help but it backfired big-time."
The independent commission, which included former Tottenham Hotspur captain Gary Mabbutt, took a dim view of his drug use.
"In our judgement, this player fell well short of establishing that he bears no significant fault or negligence," its report read.
"There were a host of enquiries and steps he could and should have taken, which he did not. He is responsible for what he ingests."
Kinsella, who continues to get the support of the Professional Footballers' Association, has no complaints.
"If you don't obey the rules, you get punished," he says. "It's a long time not to play football, but the rules are the rules."
He is keen to warn other youngsters striving to make it as a professional footballer of the pitfalls lying in their wait.
It is a path already well trodden by his older brother, Michael.
A promising goalkeeper who played for Bury and Tranmere, he spent seven years in prison for selling drugs.
Now aged 35 and a reformed character, he has set up a charity that aims to help young players whose careers nosedive.
As for Kinsella, he admits he was "stupid" to inject a banned substance and rues the fact that he did not pay more attention to advice from the FA's anti-doping department.
"You don't listen, you should listen," he says. "You just want to play football."
With Kinsella's ban due to end in February 2015, his club, Fleetwood, have yet to make a decision on his future, explaining they will make a statement "in the fullness of time".
Kinsella is trying to remain upbeat.
"I'll play football again," he says. "But the way I thought about football? That's gone. If I play again, I'll just be playing because I love it, not because I'm chasing a dream."