FA boss Greg Dyke plays down England hopes at 2014 World Cup
Last updated on .From the section Football793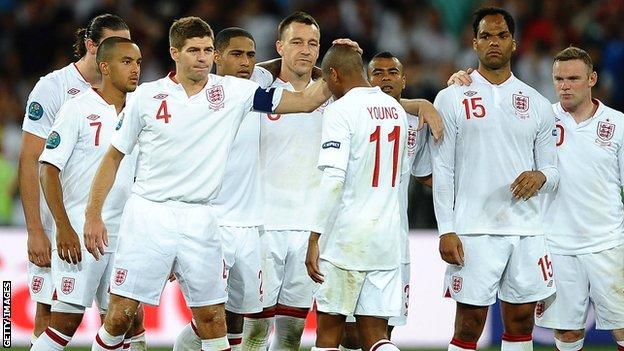 Football Association chairman Greg Dyke does not expect England to win the 2014 World Cup in Brazil.
On Thursday, he told the BBC's Today programme: "It doesn't mean we can't do well in Brazil as long as we qualify."
But he added: "I don't think anyone realistically thinks we are going to win the World Cup in Brazil."
England face a crucial few days as they attempt to qualify for the 2014 World Cup.
Roy Hodgson's team, who were eliminated at the quarter-final stage in Euro 2012, play Moldova at Wembley on Friday - a team they beat 5-0 in the away fixture last year - then face Ukraine in Kiev on Tuesday.
England are currently second in Group H, two points behind Montenegro, who have played a game more.
Dyke, who took over as FA chairman from David Bernstein in July, is confident England will qualify for Brazil but is keen to stress it will be difficult for the team to succeed in South America.
"I asked a bunch of journalists what would be seen as doing well in Brazil," Dyke told BBC Sport. "The consensus was if we reach the quarter-finals we'll do very well.
"That's not to say we can't win. But let's not kid ourselves, it's pretty hard to win in Latin America anyway for a European side. We're certainly not going to go there as odds-on favourites, that's for sure.
"Obviously, I thought about that, I discussed it with Roy Hodgson. He knows that we want to do the best we can possibly do at every tournament and I believe we will qualify for Brazil and we can do OK."
On Wednesday, Dyke described the reduction in the number of English players in the Premier League as a "frightening trend" and said: "English football is a tanker that needs turning."
He later told the BBC: "The real challenge for us looking forward is that we've gone from 70% English players in the Premier League to 30% and it's still falling.
"If that continues, we won't have a chance in hell in future tournaments. We have got to stop that decline and we've got to get more English players playing at the highest level."
Dyke also announced plans to create a Football Association Commission aimed at improving England's long-term prospects.
The commission will begin its work later this month and aim to publish its evidence and recommendations by spring 2014.
Dyke hopes former England managers such as Fabio Capello and Steve McClaren will give their views on the English game and also wants Premier League chief executive Richard Scudamore, along with representatives of other English leagues, to attend.
Asked if sufficient compromise can be reached over the competing interests of the professional game and the needs of the national side, Dyke said: "Everyone in football wants a successful English team.
"Does it mean compromises? Probably. Are those compromises too great? I don't know yet."
Dyke admitted the hardest task would be to implement any ideas the commission came up with.
"That is going to be difficult," he said. "I've no doubt we'll come up with some things that have no chance of being implemented. I think we'll come up with others that could easily be implemented."
"Everyone can say we want quotas on foreign players. First of all, I doubt that's legal with European players. Secondly, one of the other theories is that foreign players are cheaper than English players. If that's the case, quotas just make English players even more expensive.