NI fans tell Irish FA Windsor Park funding must not be jeopardised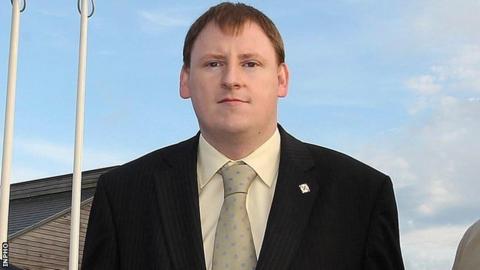 Northern Ireland Supporters groups have urged the Irish FA to ensure that government funding for the upgrading of Windsor Park is not put in jeopardy.
Government money for Northern Ireland appears to have been put in doubt by David Martin's return to the position of Irish FA vice-president.
"If the department gives a negative response, the IFA is duty bound to rectify the situation," said supporters spokesman Gary McAllister.
"The funding must not be put at risk."
Martin had been forced to quit the association's vice-president's role in 2010 after the sacking of chief executive Howard Wells cost the IFA £500,000 in an unfair dismissal case.
A suitability assessment was then put in place for senior positions - a move which blocked Martin's return.
However, the IFA later voted to remove the need for such assessments.
Although Martin unsuccessfully tried to regain a vice-presidents' role in October 2011 because he did not pass meet the suitability requirements, he was elected unopposed at a meeting of the association's council on Monday night.
On Tuesday, the Stormont department which covers sport said the IFA's removal of the suitability test was a retrograde step which could breach the £26m funding agreement for Windsor Park.
At the recent World Cup qualifier against Russia, some Northern Ireland supporters staged a protest against Martin's return as a senior IFA officer.
Current IFA president Jim Shaw has attempted to play down the issue by insisting that the association remains on course to receive the vital funding.
"No one has approached me with strong feelings about the election of David Martin and the fact is that there was a democratic process in place and David was elected," said Shaw.
"At this moment in time there is nothing to suggest funding will not be forthcoming.
"The biggest task the IFA has at this moment is to ensure the new stadium is built. Government funding is needed for the project and of course it is a concern if they money is not assured.
"We will continue to work with the Department of Culture, Arts and Leisure to ensure it does happen."
Supporters spokesman McAllister added that his organisation has held two recent meetings with senior IFA officials to discuss the funding threat.
"Our understanding is that there was a meeting between the IFA and DCAL (the Department of Culture, Arts & Leisure) on Monday and that DCAL are now looking at the situation and considering whether the changes are in breach of funding agreements which are in place.
"I understand that DCAL have not given a definitive answer and therefore it's a wait and see from us at his stage.
"But if DCAL do set out objections and state clearly what those objections are, the IFA will be in no doubt what the problem is.
"If that is the situation, then that problem will need to be addressed.
"At that point, we would go to the IFA and say, 'deal with this'."
In addition to the money earmarked for the Windsor Park redevelopment, other funding for Northern Ireland football could also be endangered by the controversy.
McAllister added that it was his understanding that the planned overall investment for the sport is in the region of £85m.
"That is a huge amount of money and much needed for local football.
"The IFA, in fairness, has become more progressive in recent years but the public perception of the IFA has taken, what I would call, a direct hit this week."
On Wednesday, Northern Ireland player Gareth McAuley said that he was concerned by Martin's return to the post of IFA vice-president.
Speaking on Twitter, the West Brom defender said that Martin's election was "a very worrying development for Northern Irish football".
Martin is a long-serving officer of the Northern Amateur Football League which has 94 IFA-affiliated clubs.
He could be a candidate for the IFA presidency in 2015 when present incumbent, Shaw's five-year term is due to end.