Alan Hansen 'changed the way football was analysed on TV'

By Mark Lawrenson
BBC Football analyst
Last updated on .From the section Football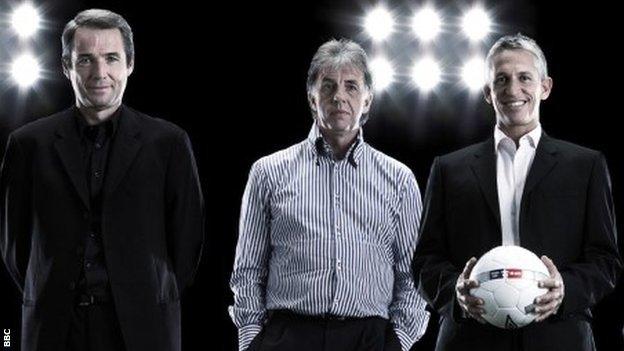 Match of the Day will not be the same without Alan Hansen, who has announced he is going to retire after the 2014 World Cup.
Alan has been part of the programme since it was relaunched for the start of the Premier League in 1992, and he broke new ground right from the start.
There is a new generation of pundits now, led by the excellent Gary Neville for Sky. Hansen's work has been a big influence on all of them, because he changed the way people looked at games on TV.
He was in the right place at the right time because the Premier League started when he had not long finished playing.
But the reason he made such an impact on the art of football analysis was not just because he was a new face on the TV, or was a player who had won absolutely everything in the game.
Alan is so good because he gives tactical insight, he is articulate and he is not afraid to tell it exactly how it is.
One of his nicknames when we played together at Liverpool was 'Norris' after Norris McWhirter, who used to answer questions on the old Record Breakers children's TV show, because he is so knowledgeable about everything.

And his understanding of the game is still as good as it was when I joined Liverpool in 1981 and became his partner at centre-back.
He is remembered as an outstanding defender but he also had a very clever footballing brain. He was comfortable playing out of the back and made things look very easy. Also, if he made a mistake, he blamed me!
Back then, he did not have any aspirations to be a pundit, but if somebody put a microphone under his nose he would speak, and speak very well.
When he retired in 1991 he started co-commentating, on Italian games for Sky, and for BBC Radio Merseyside before doing a couple of Liverpool's European games for BBC One and getting signed up for Match of the Day.
He quickly became well known for the depth of his defensive analysis - which, again, nobody else was really doing at the time.
There was a good reason for that too. We played together for a very successful Liverpool team where you realised that, to be so successful, you have got to be able to defend.
He knew that if you didn't do that properly, you had no chance. What he says about good defending being so important is still relevant now. It is the cornerstone of most teams' successes: just look at how Chelsea won the Champions League in 2012.

As well as playing alongside him for eight years at Liverpool, I have watched hundreds of games with him since I joined Match of the Day in 1997.
We never had a cross word when we were team-mates and, although we have had disagreements about things on Match of the Day, we have never had a serious fall-out.
I have sometimes seen us accused of being too cosy but, if you agree about something, then you don't make up an opinion for the sake of having an argument. I know he will only ever discuss an incident in the way he sees it himself.
Everyone knows he is a massive fan of Liverpool - and of Partick Thistle, too - but he never let his affinity hold him back when he was talking about his old club because criticism, as long as it is fair, is part of the job.
One of the best things he ever said was "you can't win anything with kids" about Manchester United in 1995-96, when they had lost to Aston Villa at the start of the season.
What he was saying was right, it was just that nobody realised at the time how special those kids were.
In a strange way what happened next, with United going on to win the Double, raised his profile.
Imagine if he had said something like that these days, with the internet and Twitter - it would have been an even bigger story.
But Alan is never controversial for the sake of it. He is honest and fair, and outspoken when he had to be. I've seen him described as dour, but that couldn't be further from the truth.
He was never interested in becoming a manager but when Kenny Dalglish quit as Liverpool boss in 1991, all the papers were saying Hansen would replace him.
Alan had absolutely no intention of going for the job but he wanted a bit of fun and said to the coaches: "Can we just pretend that I am the new manager? Get all the players in the room and I will come in and tell them I am the boss."
He started saying stuff like 'right you all have to live within 15 miles of the training ground, there are no days off, we are training twice a day, and if you are not playing well we will cut your money'.
They were all looking at him with their mouths open thinking that they were in for a complete nightmare when he started laughing and told them the truth.

I have got many memories of him from Match of the Day too, and he is part of the reason for one of Gary Lineker's catchphrases behind the scenes when he is hosting the programme.
Gary has this saying, "Is this for real?", when he starts talking to camera, basically because he has to rehearse different links. The announcement will be made in the studio that we are going on air and he will ask the question, just to get confirmation one way or another from the reply.
That only came about because, in 2003, we covered a live FA Cup game at Molineux between Wolves and Rochdale and somehow we went on air without knowing it.
Alan had made a call home to his wife, asking if she had the front door keys, and the end of that conversation was broadcast. The moment we realised was horrifying!