Aidy Boothroyd says Cobblers must still go in for tackles
Last updated on .From the section Football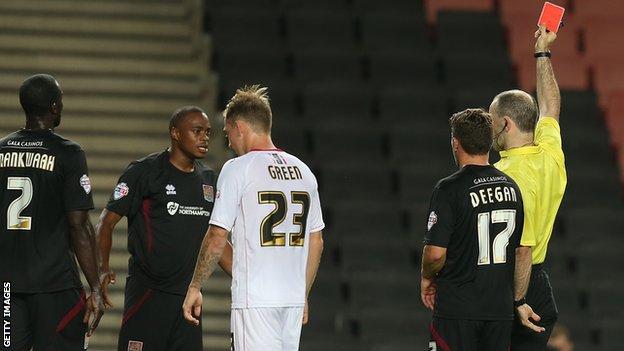 Northampton Town boss Aidy Boothroyd insists he will not stop encouraging players to go in for tackles despite their poor disciplinary record.
"Everybody has to take responsibility," Boothroyd told BBC Radio Northampton.
"But this is the only red card we should've had this season. They've got to go in for tackles or I'm going to get annoyed with them."
He continued: "I didn't think Darren Carter's was a red card and I certainly didn't think Roy O'Donovan's was a red card.
"Chris Hackett's [red card] was over-exuberance and a more mature referee wouldn't have booked him for the first [tackle].
"Tackles have gone out of the game now. Sometimes players are over-keen to do well, which is a good bad thing, and referees are too quick to get the cards out."
Former Cobblers defender David Artell, who was released on Monday, had used Twitter to claim that players were getting away with "murder tackles" in training.
He subsequently softened his comments, stating that former team-mates "just need to temper their enthusiasm slightly", while also praising Boothroyd's man management.
"Wherever I've been, the players have always got as close to matches as we can [in training]," said Boothroyd.
"It's very difficult to turn it on and off like a light switch - Phil Jones and Wayne Rooney would testify to that.
"You've got to be competitive and if you're soft with each other, don't expect any favours on a match day."
Northampton have only won once in seven league and cup games so far this season and Boothroyd admitted he had been disappointed by 25-year-old Demontagnac's dismissal.
"The sending of changed the game [against MK Dons]. It was a very poor error of judgement and he left us wide open.
"He's done it before. Does the leopard change his spots? You like to look for the good in people, but he's going to get highlighted - he always has been. People have tried to kick him to wind him up.
"He's that type of creative player that can do something different that can win you a game, but also do something daft and lose you a game."
Despite their poor results, Boothroyd said he was "looking at the big picture".
He added: "We're making progress, but we're not getting the rub of the green nor the results.
"Over the longer period, we will. I know that - I've seen and been through this before."