Emile Sinclair will boost Crawley Town - Richie Barker
Last updated on .From the section Crawley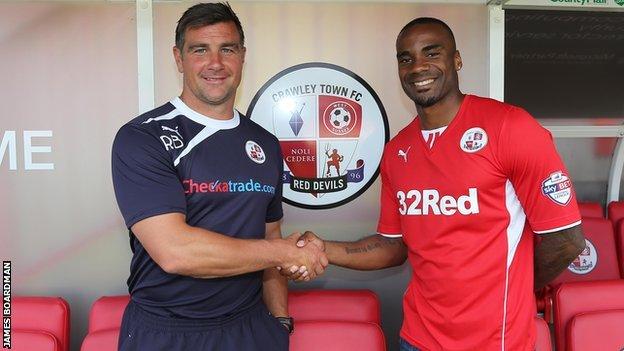 Crawley Town manager Richie Barker says the signing of Emile Sinclair has boosted his options up front.
"We have had limited options over the last few months since I have been here," Barker told BBC Sussex.
"We can look at individual games and work out which one or which pairing will cause the most problems."
Sinclair is still awaiting his debut for the Reds after being restricted to the bench for Crawley's 2-0 win at his former club last Saturday.
Barker believes the arrival of the former Nottingham Forest trainee at the Checkatrade.com Stadium will also encourage his other strikers to perform better.
"Sometimes you bring in a player and it gives other people a kick up the backside," said Barker.
"I've seen a slight improvement in Jamie Proctor and a big improvement in Gary Alexander.
"Emile wants to play a part in it as well and I'm sure he has come in and is trying to work out how he will get in this team.
"If he continues doing the right things and he keeps improving I am sure he will get his chance in the end.
"I think he was slightly disappointed not to be involved in the Peterborough game but I think he saw what it is he has got to compete with."
Meanwhile, Barker is delighted to have kept his squad intact during the transfer window.
Crawley rejected two bids for centre-back Kyle McFadzean and saw off interest in midfielder Nicky Adams.
"Keeping them together was important," he said.
"We knew having a game on TV [the 2-1 defeat away to Wolves] would be an advert for what we have done and that there would be interest.
"There was interest but fortunately but we managed to keep everybody together, predominantly because players want to stay.
"They want to improve and be a part of what we are doing. Some of them have had opportunities to go to bigger clubs and earn more money."