Keane says defeat by Sweden will end Republic World Cup hopes
Last updated on .From the section Football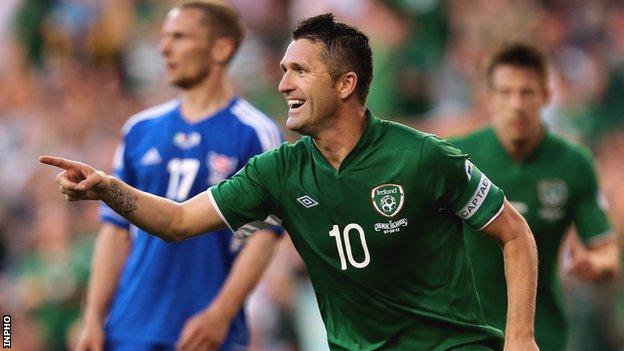 Robbie Keane has admitted that defeat by Sweden in Friday's vital World Cup qualifier will end the Republic of Ireland's hopes of being at the finals in Brazil.
The Republic face a crucial four days with Friday's game followed by Tuesday's clash with Austria in Vienna.
"These two games are make or break," said the Republic captain.
"It's a game (against Sweden), certainly, we can't afford to lose, there's no question about that."
The Republic, Sweden and Austria all currently have 11 points, with group leaders Germany on 16 and fifth-placed Kazakhstan on one.
Manager Giovanni Trapattoni has set his sights on at least four points from the Republic's two games to give his team a firm foothold in the race for the runners-up spot in Group C.
The 74-year-old Italian has admitted he does not mind how those points arrive and insists he would not be disappointed with a draw against Sweden if his side then went on to win in Austria.
However, Keane insists that the Republic side are determined to earn the victory on Friday that would probably knock the Swedes out of contention for a place in Brazil.
"People are talking about going in and trying to get a draw - it's very hard for any player to go in to try to get a draw," added Keane.
"You go into every game trying to get the three points. Obviously, it depends on the situation, the circumstances of when you are playing, but we will be going into the game to try to get the three points."
Keane has been delighted with the resolve the Republic players have shown to get back into Group C contention after the 6-1 mauling in Germany at the Aviva Stadium last October.
"We know we have players in this team, characters in this team with good, strong mentalities and we have shown that since that Germany game," he added.
Keane heads into the game still enjoying the status of the nation's most likely match-winner after taking his goals tally to 59 with a hat-trick against the Faroe Islands in June.
The Dubliner has scored seven goals in his last four games for LA Galaxy but he knows that the Swedes have a potential match-winner of their own in Paris St-Germain star Zlatan Ibrahimovic.
However, the Republic defence subdued Ibrahimovic in last March's game in Stockholm and Keane is optimistic that the Swedish star can be curtained again in Dublin.
"The way we played in Stockholm certainly frustrated the Swedish team and they didn't get much service to Zlatan, so in that respect it was probably a difficult game for him," said Keane.
"You can't play well all the time and hopefully on Friday we can keep him quiet as well."