World Cup 2014: Coleman's late arrival 'not going to affect' Wales
Last updated on .From the section Football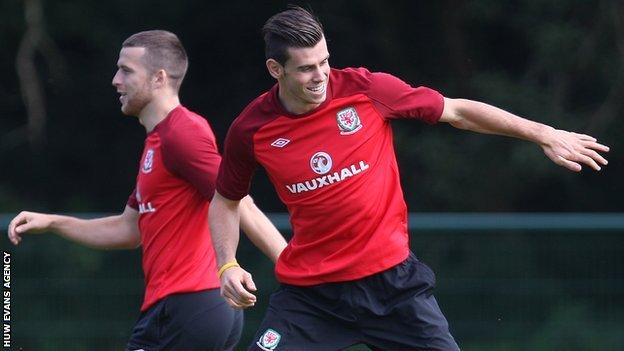 Wales assistant manager Kit Symons says Chris Coleman's late arrival has not disrupted the team's preparations for the match against Macedonia.
Symons took the Wales press conference in Skopje on Thursday after boss Coleman missed the team flight.
Coleman had to obtain a new passport after losing his, a situation described as a "passport issue" by the Football Association of Wales.
"It's not going to affect the set-up for the game in any way," said Symons.
Coleman arrived in Skopje on Thursday evening after making the journey from Heathrow via Vienna.
Symons said the "minor issue" has not disrupted Wales' match preparations, and also felt the incident would not bother the manager.
"This is Chris we're talking about," he added.
"I'm sure he won't be too embarrassed I'm sure he'll just bat it off and get on with it like nothing has happened."
Gareth Bale is set to play some part in Friday night's match with Macedonia, with Symons hoping Wales' opponents will concentrate too much on the Real Madrid forward.
Despite lacking match fitness, Bale is with the Wales squad preparing for World Cup qualifiers against Macedonia and Serbia on 10 September.
Bale's world record transfer from Tottenham to Real Madrid has marked him as the man to stop, but Symons hopes that creates space for his team-mates.
"I'm more than happy if people think that," Symons said.
"We've got an awful lot of good players. If people focus just on Gareth then we've got other boys who can go and do damage to teams."
Bale has missed the early part of the season with a foot problem, but Symons said that the 24-year-old is now free of injury and it is only his match-fitness that will decide how much of a part he plays against Macedonia and Serbia.
"He's looking good. It's obviously been fantastic to have him with the squad this week, he's trained very, very well," Symons added.
"But we're well aware of how little training he's actually done this pre-season.
"He's fit for selection, he's fully fit but... we'll make sure we do the right thing by each individual player, regardless of who they are and what club they're playing at."