Football League clubs spend less on agents' fees in 2012-13
By Nabil Hassan and Phil Cartwright
BBC Sport
Last updated on .From the section Football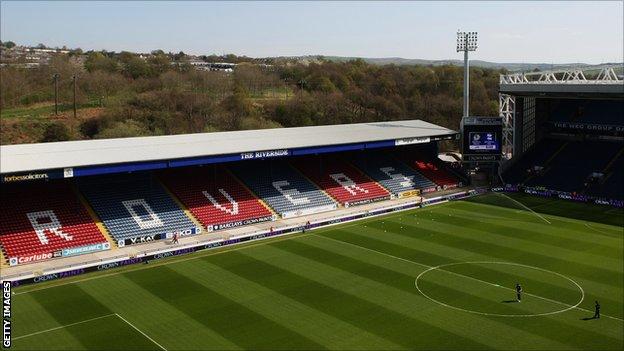 Football League clubs spent less on agents' fees last season - with seven teams spending nothing at all.
Agents received a total of £21.5m from clubs during 2012-13, £170,000 down on the previous campaign.
A Football League report reveals Blackburn gave £3.5m to agents - the most among Championship clubs - but Blackpool did not pay them anything.
Promoted Bournemouth (£688,666) and Rotherham (£106,383) headed the lists for Leagues One and Two.
Hartlepool United, Accrington Stanley, AFC Wimbledon, Morecambe, Barnet and Crewe Alexandra were the other six clubs to avoid any outlay on agents' fees, while 24 other clubs spent less than £25,000 each.
Financial Fair Play regulations could see a further overall reduction this season and Football League chairman Greg Clarke has urged teams to continue cutting their cloth accordingly.
"Again, this is a considerable amount of money to be leaving the game," said Clarke. "However, the real challenge is to ensure that such payments are part of a sustainable financial model with clubs only spending what they can afford.
"In conjunction with clubs, we're making real progress towards this goal and now have all three divisions operating Financial Fair Play regulations."
Championship clubs accounted for £18.6m of the £21.5m total, with League One and League Two clubs spending £2.2m and £0.7m respectively. Clubs committed to pay agents in 776 of the 3,746 player transactions that took place.
Blackburn, who only finished four points clear of the relegation zone last season despite a series of transfer transactions that included the £8m acquisition of Jordan Rhodes, defended the amount paid to agents.
"After suffering relegation from the Premier League, there was an influx of new signings, including a number of high-profile players on lucrative contracts, in the hope that we would make an immediate return to the top flight," managing director Derek Shaw told BBC Sport.
"Regrettably, those moves didn't work out, both in terms of results on the pitch and from a financial point of view, which is something we have worked hard to put right this summer.
He continued: "Since Gary Bowyer's appointment as manager in May, he has adopted a very different transfer policy, bringing in a number of hungry, young players, on manageable Championship contracts.
"If recent results are anything to go by, the early signs are very encouraging."
Bournemouth's total of £688,666 was the ninth highest in the Football League, but the south coast club saw a significant overhaul of their squad, which led to promotion to the Championship.
The club declined to comment on the agents' fees report.
Blackpool chairman Karl Oyston admitted to being "horrified" at the £21.5m total and vowed to continue their policy of limiting the amount paid to agents.
"It's been a policy that we've had for the past 15 years or so," Oyston told BBC Sport.
"Like all policies, we do vary it when we need to. It's not a crusade necessarily. We've paid agents modestly in the past and we will do again in the future.
"I'm horrified at the levels of money that goes out of football, never to be seen again. That £21m could and should have made a massive difference.
"If clubs were that keen to spend that money, they should have invested it in their own community trusts rather than paying it to agents."
Trevor Birch, who oversaw the administration of Portsmouth and who is a former football club chief executive, believes FFP will see a further reduction in the amount paid to agents.
Accountancy firm BDO, of which he is a partner, recently published a report looking at the impact of FFP on British football.
"We expect continued downward pressure on agent fees as clubs get to grips with financial fair play, particularly in the Championship, where the rules specify a maximum permitted loss rather than a wage cap," Birch told BBC Sport.
"However, the overall picture is more complicated than that because clubs that have been relegated from the Premier League will have their revenues bolstered by four extra years of parachute payments. They will therefore continue to have greater spending power and influence in the search for talent and could skew the annual agent payments figures."