Northampton Town: David Cardoza defends backing
Last updated on .From the section Football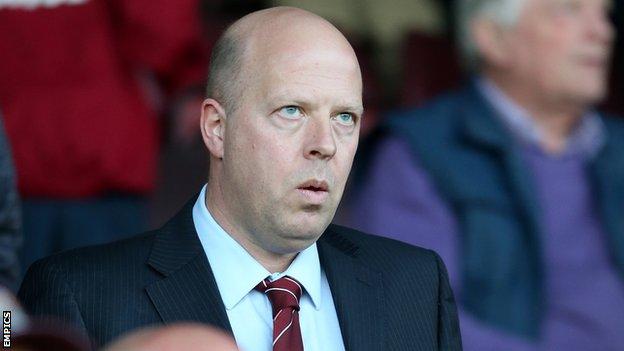 Northampton Town chairman David Cardoza has said he cannot be accused of failing to back the club financially.
The Cobblers had League Two's third-highest wage bill last term but lost the play-off final to Bradford.
Cardoza was speaking at a fans forum at Sixfields on Thursday night.
"Last year our wage bill was £1.671m, the third highest in the division. People can have a go at me about a lot of things but not about the money that I put into the club," he said.
"There is a belief that certain things have happened in regards to the budget but I'm going to be very honest with you and tell you everything now.
"Once or twice a year we get a list of what all the other clubs have spent and although you don't see their names, we were third on that list.
"We also get a list of every club's income and we were 11th on that. Our club should have a £1m to £1.1m wage budget to break even and it has never been as low as that since I've been here."
Cardoza and his father Tony have bankrolled the club since their takeover in 2004, putting in a total of £8.3m.
Manager Aidy Boothroyd has had to particularly after last season's play-off campaign failed to be as financially lucrative as Cardoza had hoped,
"We only made £200,000 in profit from the play-off games, that is all three matches," he said.
"The Wembley rent pretty much took everything out.
"We made £40,000 for the two televised games in broadcast fees, about £35,000 in gate receipts and the rest was from the final."
Cardoza confirmed there would be a planning meeting this week regarding
And he added that which sees the Sky Blues rent the stadium on match days, was good for the Cobblers.
"If I thought for a second the club would be at risk with the Coventry deal, I wouldn't have done it," he said.