Clayton Donaldson: Goalkeepers have too much protection
Last updated on .From the section Football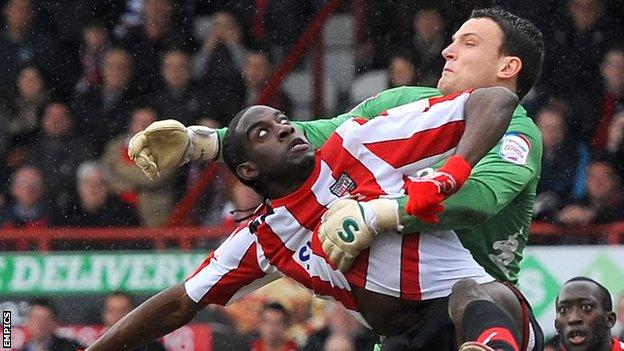 Brentford striker Clayton Donaldson believes goalkeepers receive too much protection from referees.
Donaldson told BBC London 94.9: "On Saturday the keeper came to me after the game and said 'I got away with it'.
"That rubbed salt in the wounds and made it even worse. You see it happen every week."
The 28-year-old added: "I think they get a bit too much protection at times.
"It is hard to take when you feel you have scored a genuine goal and what could have been a winning goal."
Brentford manager Uwe Rosler took a dim view of the decision of referee David Philips against the Cumbrians.
"I watched it on DVD," Rolser told BBC London 94.9
"Clayton came in sideways, the keeper couldn't see him and the keeper was struggling with the sun.
"Clayton out-jumped him and didn't touch him. He had his elbow up but there was no contact.
"It was a clear goal for us and was definitely a wrong decision."
Donaldson feels strikers should be given the benefit of the doubt more often.
"As a striker you want more advantage with the forward player," Donaldson added.
"It doesn't always happen. It is difficult with the refs and they always try and make the right decisions although it is not always the case.
"You are going to get bad decisions outside the box as well and all around the pitch. It is frustrating but you just have to get on with it as it is part of the game."