Nathan Tyson: Derby boss Nigel Clough denies ignoring striker
Last updated on .From the section Derby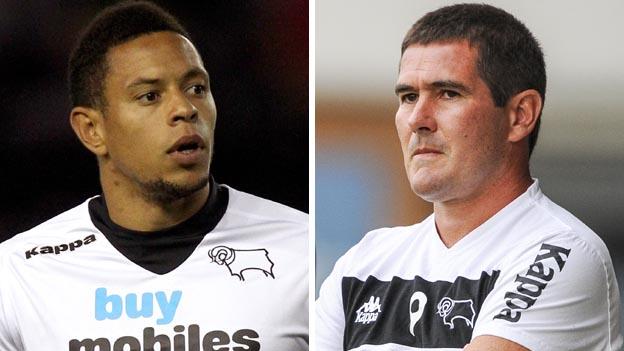 Derby County manager Nigel Clough has denied claims by Nathan Tyson that the striker was kept in the dark about his prospects at Pride Park.
He claimed he did not want to leave and said Clough did not tell him when he was put on the transfer list.
But Clough told BBC Radio Derby he spoke to him at the end of last season.
"He did some pre-season with us but he always knew the situation," Clough said. "That was the reason we didn't give him a squad number. If you don't work it out when you don't get a squad number then you are struggling.
"We had a chat at the end of last season about the situation. Sam Rush [chief executive] was in constant contact with his dad, who works as his representative."
Tyson, who joined Derby from Nottingham Forest in June 2011, told BBC Radio Lancashire: "The manager didn't even come and tell me [about being put on the transfer list].
"The chief executive told my representatives that there was a press release coming out and I was on the transfer list. That's how I found out.
"Derby are a fantastic club and I didn't want to leave. When I got told that I was being put on the transfer list at the end of last season, I thought 'why?'"
But despite the unhappy exit, Clough said he had no regrets about signing Tyson and said his bad luck with injuries meant he lost ground in the fight to earn a regular place.
"He got that injury a couple of years ago," Clough said. "He started brilliantly and then got whacked in the last pre-season game against Aston Villa and that put him out for about four or five months.
"He came back and played very well at Christmas but... he just gradually knocked down the pecking order.
"He was so unlucky with the injury he got in the first few months. He never really got that long run being injury free, so we never got that extended look at him. He never managed to get that consistency we were looking for."