Price of Football: Lunch with Edgar Davids brings Barnet closer to fans
Last updated on .From the section Football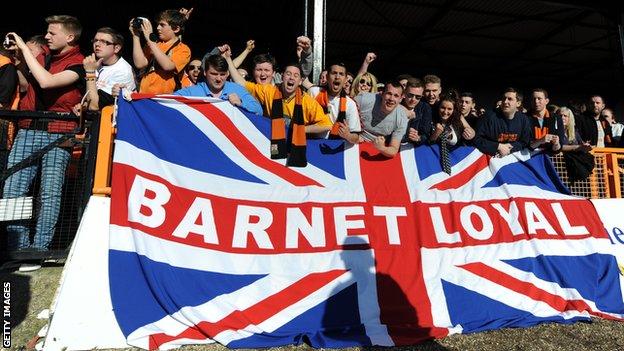 Most football fans could only dream of having lunch alongside a Champions League winner or sharing a gym with the players they cheer on at a weekend.
Barnet's move out of the borough from Underhill, where they played for 104 years, to their new home in Harrow has not been universally popular, with a permanent new ground still being sought for the long term.
But Kleanthous believes the Hive being a community facility - with the gym, training pitches and restaurant used by the club alongside the public - has helped bring the club closer to its supporters.
He has also scrapped the traditional season tickets and introduced a new monthly non-contract membership scheme he believes offers supporters more accessible and affordable football.
Barnet, who appointed former Ajax, AC Milan, Juventus and Netherlands international midfielder Edgar Davids as their player-coach last season, were relegated into the Conference with an average attendance of just 2,440, the fifth-lowest in the Football League.
Kleanthous said: "We sit alongside the community at the Hive. People can wander into the restaurant and have a chat with Edgar and the lads and they can use the gym with our players. How many other clubs are that open?
"For a long time I have been saying we treat people badly in football. It isn't intentional, there are some fantastic people in football, but we just don't get it right as a sport. We get it wrong as well at Barnet, but we are trying hard.
"We have a debate if our hamburger sales drop by 1%. Every penny counts at a club our size. Football is a very expensive business and we know the fanbase is our lifeblood. We need them and we need to treat them right."
Instead of selling season tickets, Barnet offer fans a membership scheme, available from £22 per month along with a month's joining fee, which buys them entrance into every game played during that period. There is no contract and fans can join and leave whenever they want to.
Kleanthous said: "We are unique as a club in this. Traditionally, everyone pays for a season ticket up front and it is a painful time for everyone as they try to find the money to afford it.
"When we moved to the Hive, a lightbulb went off in my head. Why couldn't we make things work on a similar basis to how our gym works?
"We used to get 3-400 season-ticket holders. The most we had was last season, our last at Underhill, and we had just over 500, which was a buy one, get one free offer. We have got well over 1,000 paid members now, nearly 1,100.
"Some might say it is a risk if we don't do well on the pitch but I would like to think our supporters are more loyal than that. If we are not doing well, they will rally behind us."
Season tickets at the club last season cost between £304 and £418, while individual match-day ticket prices have risen this season - from £14-£22 to £16-£25.
The BBC Sport Price of Football, which looked at 166 clubs in 10 divisions across British football, found that £25 match-day ticket is the most expensive in the division.
Barnet's first Conference match of the season - against Chester - attracted a crowd of 2,543 and while attendances have fallen by in the region of 1,000 over the past two games, Supporters' Trust chairman Derek Rocholl says the dip has a lot to do with smaller away attendances - as well as the move from Underhill.
He said: "The scheme is a mixed bag as, because of the month's joining fee, you are effectively paying for an extra month. People added it up, though, and if you intended to go to all the games it made financial sense, especially with the bolt-ons you could add to the membership, like the gym and car parking.
"Clearly there is a risk for the club. Instead of people throwing their season tickets onto the pitch when things are going badly, which doesn't cost the club, now fans can just cancel their direct debit.
"Clubs should look at becoming much closer to their communities and engaging with them. This is something that happens at Barnet.
"There are some who will never come back until the club moves back to Barnet but, while there have been teething problems, there is no doubt the club are trying.
"For people on medium incomes, lower-league football is still good value. But to watch Premier League games, I don't know how the traditional core supporters carry on following their club."