Worcester City: New doubts over Conference North club's future
Last updated on .From the section National League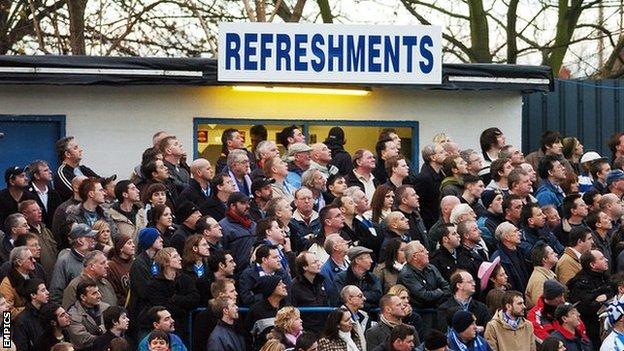 New doubts over the future of Worcester City have emerged following their end-of-season move from St George's Lane.
City have started off the new season playing their home games 14 miles away in Kidderminster, at Aggborough.
And they appeared to have been saved from closure by sidestepping a planned move to a new home in the city.
But the commercial developers have now reportedly done a U-turn on a promise to release the club from a contract to build a new stadium at Nunnery Way.
Despite provisionally agreeing to the move three months ago, BBC Hereford & Worcester now understands that St Modwen are demanding substantial financial compensation to cancel the Nunnery Way ground deal.
And the latest development could leave ambitious plans to eventually build their own community stadium in the Perdiswell area of the city in serious jeopardy.
In a joint statement issued by St Modwen and Worcester City, both the developers and the club denied that they were at loggerheads.
It read: "We refute the claim that St Modwen is demanding substantial financial compensation beyond the original terms agreed with the football club.
"Both parties continue to have productive talks and look forward to concluding this matter which ultimately helps to safeguard the club's future."
But Worcester MP, Robin Walker, wants to meet St Modwen's bosses to persuade them to treat City as a special business case by dissolving their contract with the club for the good of the wider Worcestershire sporting community
And Rob Crean, secretary of the Worcester City Supporters' Trust, wants the local authorities to take action to help secure the future.
"I think it's time for Worcester City Council to intervene and bang some heads together," Crean told BBC Hereford & Worcester.
"This is not a good situation for Worcester City FC and it's not good for the city council.
"It's been allowed to drag on. It seems that, with St Modwen, when one door opens another slams shut in your face.
"The Perdiswell plan is the only way forward so we need to get the Nunnery Way contract off our backs."