Gordon Strachan positive after defeat to "magnificent" Belgium
Last updated on .From the section Football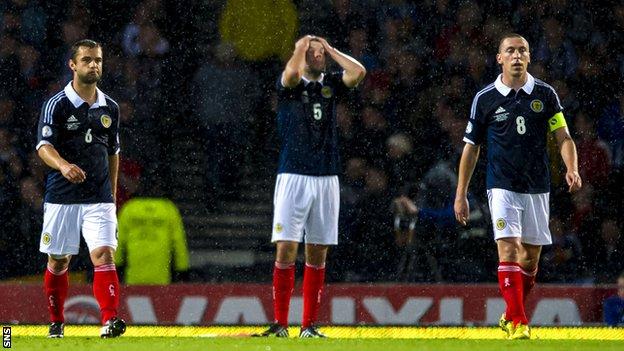 Manager Gordon Strachan was full of admiration for his players as Scotland were defeated but not disgraced by an impressive Belgium at Hampden.
"That's as good as a team as we've played against," he told BBC Radio Scotland after the 2-0 loss.
"They were magnificent and our hearts are as big as theirs. Our work-rate was as good as theirs and our camaraderie was as good as theirs.
"But what we don't have is their height, strength and pace."
Victory in the last qualifier in Croatia, coupled with a promising performance in a friendly against England, meant spirits were high among the home support in a rain-lashed Glasgow.
However, Macedonia's win over Wales relegated the Scots to bottom spot in Group A before kick off.
And that is where Strachan's team remain after a goal in each half from Steven Defour and Kevin Mirallas took Belgium to the brink of qualification for next year's World Cup.
Scotland spent most of the match on the defensive, rarely threatening goalkeeper Thibaut Courtois and struggling to match Belgium's speed and power.
With the glittering array of talent available to visiting coach Marc Wilmots, the mismatch was not unexpected.
And Strachan was upbeat in his assessment of his team ahead of Tuesday's match in Macedonia, with the campaign closing at home to Croatia next month.
"I'll tell you what - there were about six or seven players out there on my side, and if they had said to me that was the way they were going to play I would have said 'that'll do me'," he explained.
"I thought I got some terrific performances.
"I thought Charlie (Mulgrew) was terrific, I thought his mates beside him were terrific. The back four had to go and attack - as they can do - and I thought Shaun Maloney was terrific too.
"It's not like the Wales game where I thought maybe Robert Snodgrass played well and that was it.
"I think it's fine - we can add players. Some players can come through and impress us, especially in our attacking options. So there are one or two things that make me feel better about ourselves when we go back.
"I felt we could score, but they've got players that can do magical things. We have to work more to get a goal than they do, that's for sure.
"They've got the ability to beat people and out-strength them. how much is (Christian) Benteke worth? He can do everything. We can't chip the ball to someone who is five foot six. We're picking our front men from the Championship and League One.
"If anybody has any common sense, they'll see we're playing against one of the best international sides in the world and if no-one can see there's four or five or six players playing really well, then they have a problem, not me."