Giovanni Trapattoni vows to battle on despite Republic defeat
Last updated on .From the section Football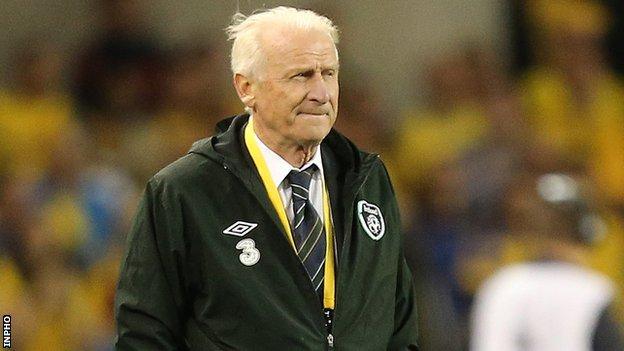 Giovanni Trapattoni remained defiant despite seeing Sweden leave his Republic of Ireland team's World Cup qualification hopes hanging by a thread by winning in Dublin.
The Republic need to win in Vienna on Tuesday and away to runaway group leaders Germany to maintain any hope.
Trapattoni's Irish side were booed after the game but he insisted that he and the team would battle on.
"Until the table says we are out, we must think we can do it," he said.
Trapattoni, who had targeted four points from the double-header, said:"Obviously, our position at this moment is difficult, but our dream must stay alive because we have another very important game against Austria.
"Obviously, we need to beat Austria. It's not easy because Austria also lost against Germany.
"I must continue because there are another three games and in three games, anything can happen."
When asked whether the boos at the end of the game signalled that it was time for him to step down, Trapattoni came out fighting.
"No. I think we have done until now, a very, very great job, a great job - not a good job, a great job.
"We have changed many players in the squad and in the team and before the game, we were level in the table with a great team like Sweden."
Richard Dunne also said that the Republic's qualification hopes remained alive despite the devastating defeat.
"It's a big blow tonight," said the veteran Republic centre-back.
"It's very difficult now but we have to keep going. There are still three games to go."
The Republic went into Friday's game at the Aviva Stadium knowing that defeat would leave them as huge outsiders to clinch the probable play-off spot in Group C.
Sweden's win moves them three points ahead of Trapattoni's side and favourites to clinch the runner-up spot with three sets of fixtures left in the group.
A memorable home win looked in prospect when skipper Robbie Keane blasted the Irish ahead on 22 minutes with his 60th international goal.
However, Johan Elmander levelled after 33 minutes with a bullet header and 37-year-old Anders Svensson celebrated his Swedish-record equalling 143rd international cap by scoring the winner on 57 minutes.
"We wanted four points from these two games but it's been a close group all the way through," added Dunne.
"Hopefully somewhere this week we will step up."
Sweden coach Erik Hamren described his team's win as "a really important victory".
"We had the fight, the attitude I want to see. If you take away the first 20 minutes, we saw the strength of the team," said the Swedish boss.
"(But) You have to win the games remaining. We focus on the next day because Kazakhstan is not an easy game."
The Swedes, who trail leaders Germany by five points, play in Kazakhstan on Tuesday before closing out the group with home games against Austria and the Germans.