Rickie Lambert: Last England striker standing set for Ukraine test

By Phil McNulty
Chief football writer
Last updated on .From the section Football310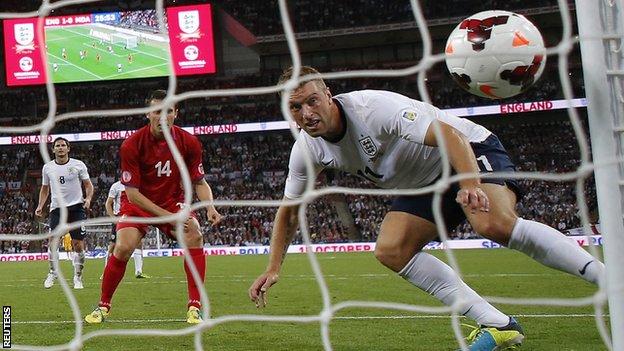 Rickie Lambert's newly elevated status within England's ranks was confirmed by the simple act of manager Roy Hodgson removing him from the routine win against Moldova at Wembley.
The man whose original selection for the friendly against Scotland was treated by some as almost a novelty pick by Hodgson is now last striker standing as England face a game against Ukraine in Kiev on Tuesday that will go a long way to determining their qualifying fate.
He may be the beneficiary of Hodgson's misfortune with his attacking resources, but Liverpool-born Lambert has also proved his worth by becoming the first England player to score on his first two caps since Peter Taylor in 1976.
And with Wayne Rooney out injured, Daniel Sturridge facing a fight against Hodgson's own stated odds to be fit for Kiev after a thigh injury, and Danny Welbeck suspended after a harsh booking, much is riding on this latecomer to the international stage.
The Southampton striker's ascent has been presented as a wonderful story, proof it is still possible to make your way through the tiers of the game to the highest level without the benefit of Champions League football or playing for one of the elite group of clubs.
It is all of these things, but most importantly Lambert has looked fit for England's purpose and Hodgson may be left to hope he can make another leap in his standards.
The striker has coped with ease against Scotland and Moldova - how will he go in the hothouse atmosphere of Kiev's Olympic Stadium against opposition on another plane?
For all the discussion about Lambert's goalscoring - and his effort on Friday was a stooping header of the poacher's variety - he showed subtlety too in England's comfortable 4-0 win that put them top of Group H after Montenegro's draw in Poland.
He has the predator's instinct but the perfect long ball he played for Danny Welbeck's first goal - England's third - should also be noted, as should the vision displayed by the clever short pass he fed in for the Manchester United striker to add another after half-time.
Lambert may find life tougher if he gets his chance in Kiev, but no-one could deny he was one of England's outstanding performers at Wembley and carried the crowd with him from the first whistle.
He is even more firmly in the frame for Kiev after an incident just before half-time that had Hodgson almost dancing up and down on the spot with rage.
Hodgson's wide-ranging musical tastes may not stretch to the great Albert King blues staple, "Born Under A Bad Sign" - but he looked for all the world like the man in the song who complained: "If it wasn't for bad luck, I wouldn't have no luck at all."
Rooney accidentally kicked in the head in training; Sturridge, in the hottest form of his life, sidelined with a thigh injury; and then, most frustratingly of all in some respects, he loses Welbeck.
Photographic evidence supports Hodgson's belief that an injustice has robbed England of the striker he would have relied on in Kiev. Welbeck was booked for playing on after he had been whistled for offside, but pictures showed Slovakian referee Ivan Kruzliak with the whistle to his lips just as the striker made contact with the ball.
It was a close call - and Welbeck, as well as England, paid a heavy price for coming down on the wrong side of this particular line.
In all other respects, this was a job well done by England against a side who fall very much into the "must beat" category but do not slip as low down the chain as San Marino, where the task is simply to rack up as many goals as quickly as possible, as Ukraine did in their 9-0 win on Friday.
Captain Steven Gerrard thundered his first England goal in more than three years to get the show on the road and there was a tantalising glimpse into the future with a 30-minute cameo from Everton's outstanding teenager Ross Barkley, on for the roughed-up Jack Wilshere.
Barkley looked instantly at home, demanding the ball and using it simply when the occasion demanded as well as showing his flair with a shot that flew inches wide.
Lambert is at the other end of the age scale and how his stock has risen in his brief England career. Few would have believed Hodgson would be removing him from one World Cup qualifier to keep him in cotton wool for the next, more important, game.
The good news for Hodgson is that, so far at least, Lambert has relished the challenge of international football. The long apprenticeship he has served through the divisions will serve him well if he is picked in Kiev.