Scotland seek solace in Skopje after defeat by Belgium

By Alasdair Lamont
BBC Scotland at Hampden
Last updated on .From the section Football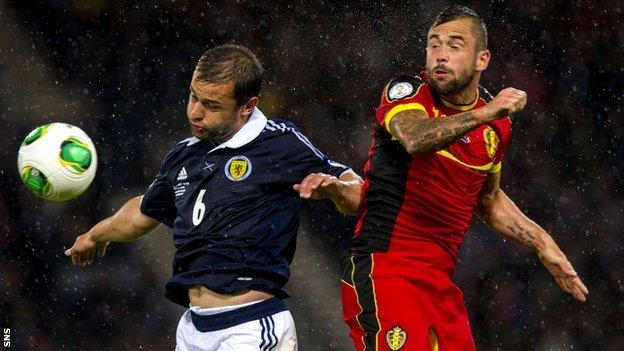 Just as the massively surprising win in Croatia shouldn't have been cause for unfettered optimism, nor should the altogether unsurprising defeats firstly by England and now by Belgium be greeted with wailing and gnashing of teeth.
Certainly the game against Belgium is not the yardstick by which we should attempt to measure where Scotland are under Gordon Strachan - other than miles behind the Belgians.
But the reality is that the result puts Strachan's Scotland bottom of their World Cup qualifying group and in serious danger of finishing there.
Now, the win over Croatia may have ensured Scotland's berth in pot four when it comes to the draw for the Euro 2016 qualifiers (though the fact that ranks as a positive underlines how far Scotland have fallen), but that would be scant solace were Scotland to end Group A in sixth spot.
And so Tuesday's game against Macedonia in Skopje now takes on huge significance.
How the Scots perform against a team that out-played them for large chunks of the meeting at Hampden last September will be a far better barometer of any genuine improvement under the current manager than the performance against Belgium.
Against Croatia and England there have certainly been signs that Strachan is managing to get a little more out of his players than Craig Levein was able to, or at least that he is more adept at moulding them into a more productive unit.
In while difficult to properly assess a team that had so little of the ball, there were still things that would have pleased the manager.
Aside from Grant Hanley's ill-judged attempted interception in the lead up to the second goal, the central defensive pairing of Hanley and Russell Martin looked pretty sound - no mean feat against a team with such attacking prowess.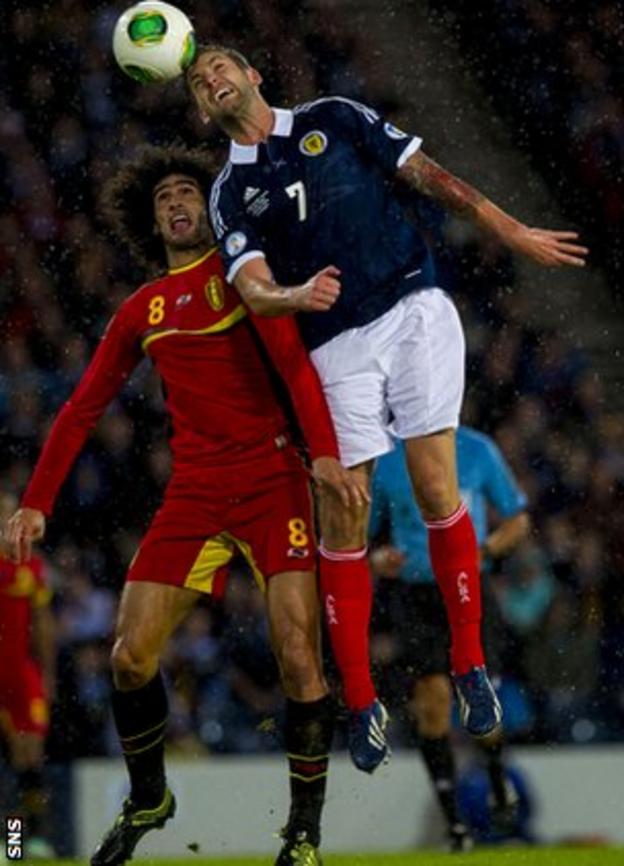 Charlie Mulgrew seldom looked out of place in a midfield brimming with multi-million pound talent, while his captain Scott Brown also coped manfully with the seemingly impossible twin tasks of protecting his defence and trying to pick a pass through to his forwards.
And a brief glimpse of Ikechi Anya in a Scotland jersey suggests Strachan's scouting network has unearthed an exciting talent.
But while Scotland have, generally speaking, looked more of an attacking threat under Strachan, there was virtually no evidence of that against Belgium and that will have to change in Macedonia.
It won't be easy because - as they showed at Hampden a year ago - Macedonia are technically more gifted than their Scots counterparts.
They've beaten Wales and Serbia at home in this qualifying campaign and have also recorded friendly victories over Bulgaria, Slovenia and Denmark in Skopje since their visit to Glasgow.
So a Scotland win - while not quite on the scale of the one in Zagreb - would be an upset.
But to ensure the optimism generated by the triumph in Zagreb and the performance in the first hour against England doesn't dissipate altogether, Strachan has to recapture what made those games among the most pleasurable experiences for Scotland fans in several years.
That is to say the verve, tenacity, self-confidence, craft and finishing touch - the elements that combined to lift Scottish hopes and hearts in the belief better days were round the corner.
While a draw would - on the face of it - be far from disastrous, it would still leave bottom spot as Scotland's likeliest final destination, unless they can repeat their heroics against Croatia when they visit Hampden next month.
Whatever the outcome, Gordon Strachan is no self-delusionist. He knows that in his time as Scotland manager, he will never have the quality of playing resources the Belgian boss Marc Wilmots was able to call upon on Friday night.
Without the immense talents of Eden Hazard and Vincent Kompany and with the likes of Moussa Dembele kept on the bench, Belgium still brushed Scotland aside.
So in the absence of a golden generation of his own, Strachan must instead find a Midas touch to achieve even a modicum of success.