World Cup 2014: Jorge Sampaoli's Chile continue to entertain fans
Last updated on .From the section Football110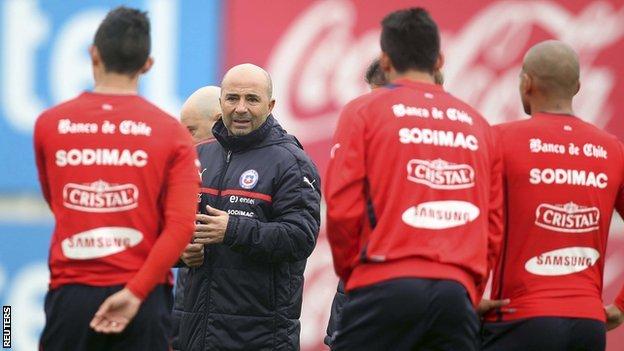 "With these players," said Chile coach Jorge Sampaoli on Friday after his side's fourth consecutive World Cup qualification win, "we can get enthusiastic at the prospect that big things could happen."
Even more so, one might add, with this coach.
Sampaoli is a curious little figure. He seems to run on batteries as he marches up and down his technical area. And his teams are just as dynamic.
Full of pace, movement and attacking intent, Chile are a delight to watch.
Their aggressive approach made them the neutrals' favourites in the last World Cup and, providing they can get themselves safely over the line, they will surely enchant global audiences in Brazil next year.
The 2010 team were the work of highly influential Argentine coach Marcelo Bielsa, who took a group of promising young players (semi-finalists in the 2007 World Youth Cup) and stamped his own personality all over them.
His Chile pressed high, maintained a furious tempo and sought ceaselessly to create two-against-one situations down the flanks.
He would always be a hard act to follow. Indeed, Bielsa's legacy seemed to be a problem for his successor, Claudio Borghi. There had been football in Chile before Bielsa, complained Borghi - who at times seemed to be picking a side to prove a point as to win the game.
Going to Argentina with two centre forwards plus a pair of attacking midfielders is an obvious example. It made no sense, other than perhaps to show that Borghi could be even bolder than Bielsa, and the complete lack of balance led to a predictably heavy defeat.
Borghi's Chile had their moments, but a run of poor results plus lots of disciplinary problems forced him out towards the end of last year.
His replacement, Sampaoli, had not the slightest problem with the Bielsa legacy. A self-confessed Bielsa disciple, he positively relished it. His big breakthrough came with a succession of attractive and successful sides at Universidad de Chile.
One of the key players, Argentine attacking right-back Mathias Rodriguez, described the team's approach in wonderfully lucid terms.
"We are not allowed to be afraid of playing," said Rodriguez. "We always attack with six players and defend with four. The six rotate, keep the ball moving, occupy and create space, and the four wait and close down space to win the ball back. The order of these four is fundamental, as is the disorder of the six." It is straight out of the Bielsa handbook.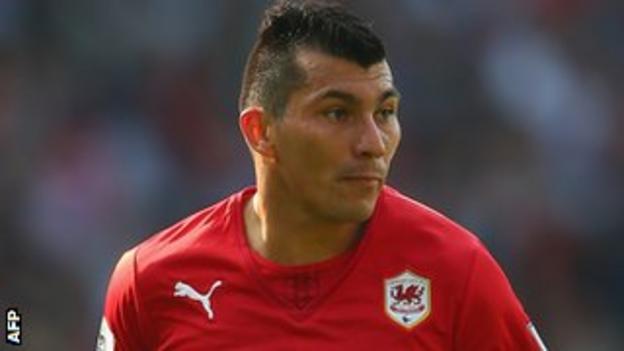 The advantage that Sampaoli has with the national team is that the generation Bielsa worked with have subsequently matured. Arturo Vidal has become a powerhouse at Juventus.
Gary Medel is already showing his combative qualities in the Premier League with Cardiff City and Alexis Sanchez looks closer to achieving his massive potential.
These and others were promising under Bielsa. But Sampaoli has them at their best. This has rallied others to the cause. After years of self-imposed international exile, David Pizarro has been lured back and is now an interesting option on the bench.
The eternally frustrating playmaker Jorge Valdivia was anything but on Friday, passing holes in the Venezuelan defence on his recall to the national team.
When these players and others - rampaging right-back Mauricio Isla, Marcelo Diaz organising the build up from deep, talented striker Eduardo Vargas - hit form together, Chile can put on an irresistible spectacle. Their 3-0 win over Venezuela was punctuated with memorable moments.
But they do give the opposition a chance. They can be caught on the counter-attack with both full-backs upfield. Their defending in the air is seldom convincing - indeed, they got away with one on Friday when Venezuela's Salomon Rondon had a headed goal mysteriously disallowed. Chile were two up at the time, and were good value for their lead - but a Venezuela goal would have changed the course of the game.
These defensive deficiencies will surely be tested on Tuesday, when Chile travel to Geneva to take on world champions Spain. A side which moves the ball as well as the Spaniards will hope to find plenty of holes in the Chile back line.
This friendly is taking place because the Chileans sit out the 16th round of World Cup qualification. If results go their way on Tuesday (if Ecuador and Uruguay are beaten) then their total of 24 points will already be very close to an automatic place in Brazil next year.
But if Ecuador and Uruguay both pick up three points, then Chile will still need something from their tricky final two games - away to Colombia and at home to Ecuador.
But whatever happens on Tuesday, both in South America and in Switzerland, Jorge Sampaoli's Chile will adopt the same approach next month when they are back in action in the qualification campaign. They will seek to play the game in the opponents' half, with pace, movement and plenty of attacking intent.
It is the only way they know. And even if it all goes wrong, those four consecutive wins mean that the worst that could happen is a fifth place finish and a play-off against Jordan or Uzbekistan.
The 2013 Chile side are within reach of becoming the first from their country to qualify for (as opposed to appear in) two consecutive World Cups. This is not one of those teams which will merely clog up the competition. Neutrals should be cheering them over the line.
Comments on the piece in the space provided. Questions on South American football to vickerycolumn@hotmail.com, and I'll pick out a couple for next week.
From last week's postbag:
In my 20+ years as a River Plate fan I can't remember a player who won the fans so completely in such few games as Colombian centre-back Eder Alvarez Balanta. How far do you think the kid can go?
I'd obviously prefer to see him at River for a long time, but given the financial state of the club I'm sure he'll be gone in December or next June at the latest. Also, do you think Jose Pekerman is going to call him up to the Colombia squad any time soon? - John Tilghman
I think he's a phenomenon. When coach Ramon Diaz compares a River Plate centre-back to Daniel Passarella after just two games, you know you're dealing with something special.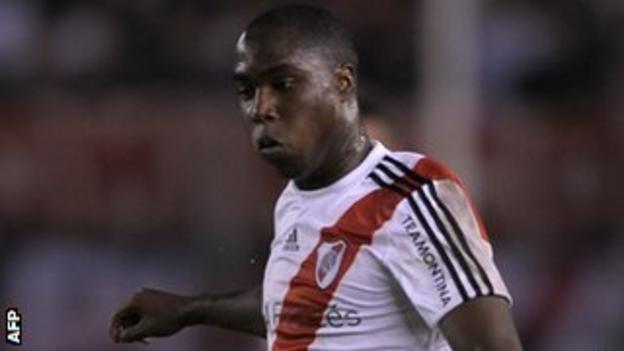 He's quick and strong, has a nice left foot, can play or can mix it - everything you want from a centre-back. He'll obviously make his mistakes - that's part of the way that young defenders learn - but he's an immense promise.
I think he'll be on his way in the next window - River have apparently already sold a large percentage of him to an agent who will be hawking him around. I hope any move will be good for his career, and not just for an agent's bank balance.
With Colombia, Pekerman says that he's following him. Despite apparent defensive weaknesses, and a lack of pace in the back line, Pekerman can point to the fact that his side have conceded just seven goals in 13 games.
Atletico Paranaense are doing well in the Brazilian Championship. Do you think that part of their success is down to the fact that they did not take part in their state championship at the start of the year? - Lucas Gomes
I do. Many would have seen them as relegation candidates at the start of the season - newly promoted and without a home (their stadium is being done up for the 2014 World Cup). Instead, we've seen the benefit of their decision to break ranks with the structure of the Brazilian game.
Many within the game have reached the obvious conclusion that the state championships are an obsolete joke. Atletico went one step further and declined to take part with their first team squad, thus allowing them to have a proper pre-season. How many will follow their example in the future?