Kilmarnock: Marie Macklin gifts club shares to Killie Trust
Last updated on .From the section Kilmarnock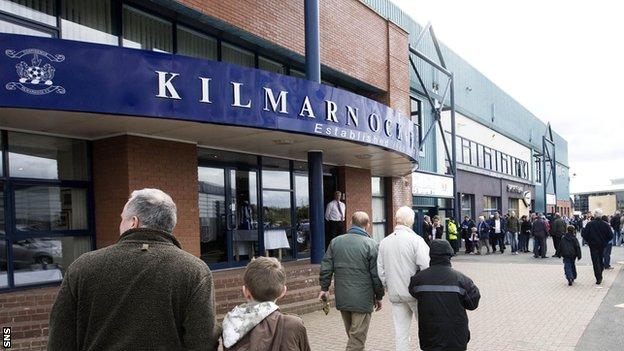 Businesswoman and Kilmarnock fan Marie Macklin has gifted more than 45,500 of her shares in the club to the Killie Trust supporters group.
Macklin, whose property company has previously expressed interest in owning the Scottish Premiership club, has kept hold of 1,000 shares.
She hopes that, by giving her shares to the Killie Trust, it will enhance the cause of community ownership.
this summer.
Kilmarnock Football Club Supporters Association called for a series of measures to force Johnston to sell the club.
Macklin's Klin Group had told an association meeting that it had an offer for Kilmarnock rejected by the club.
But and said that, although no formal bid was received, a counter-offer to Macklin to work in partnership with the club was rejected by the businesswoman.
The chairman's suggestions have in turn been refuted by Macklin, whose shareholding represented about 1.5% of Kilmarnock's shares.
Now she has put her weight behind the Killie Trust, a group that aims to strengthen the bonds between the football club and the community and will now control about 3% of shares.
The Klin Group said in a statement: ''Marie Macklin cares passionately about the future of Kilmarnock FC and has always believed that community ownership is the best way forward for local clubs like Kilmarnock.
''She believes that her shareholding on its own provides her with only minor influence but, when combined with those shares already owned by the fans, could strengthen their collective voice and enhance their ability to effect change and help Kilmarnock FC in achieving its potential, for the benefit of the club and Kilmarnock as a whole.''