Price of Football - Premier League sees some rises in cost
Last updated on .From the section Premier League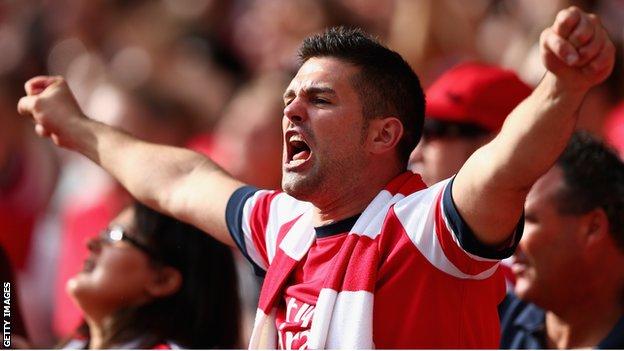 The average cost of the cheapest season ticket at Premier League clubs has risen by more than 4%, with prices ranging from £299 to £985.
The BBC Sport Price of Football study found the average price of the most affordable adult season ticket in the top flight has gone from £467.95 to £489.11 in the past year, with seven clubs raising prices this season.
Arsenal's cheapest season ticket was frozen in price at £985, the highest in the league, with Tottenham and Liverpool also charging more than £700.
The Gunners' price does include seven credits for European and FA Cup ties, as does their most expensive season ticket, which tops the cost league at £1,955.
An Arsenal spokesperson said: "We are always looking for ways to improve the experience for all supporters at Emirates Stadium. Last season we re-graded matches to create approximately 90,000 lower-priced tickets over the course of a season, starting from £25.50 for members.
"This season we launched the Young Guns Enclosure for our supporters aged between 12 and 16. This provides 1,000 tickets at a fixed price of £10 to 14 Premier League games. This is in addition to our policy of offering £10 and £5 tickets for our Capital One Cup home games."
The BBC Sport Price of Football study looked at 164 clubs in 10 divisions across British football, including the Conference Premier and Women's Super League.
It found Manchester City offer the cheapest season tickets in the Premier League and are the only club to sell them for less than £300, with their £299 tariff lower than three Conference Premier sides.
Chelsea and Tottenham join Arsenal in selling their most expensive season tickets for more than £1,000.
The average prices of the most expensive season ticket and the highest and lowest match-day prices in the Premier League have fallen by up to 5.3%, though, following the general trend of a reduction in average prices across English football.
The cheapest day out is at Newcastle United, at £23.20, while Cardiff City, Norwich City and Manchester City also offer a ticket, a programme, a pie and a cup of tea for less than £30. The Magpies offer the cheapest adult match-day ticket at £15, with the other three clubs selling one for £20.
Liverpool's most affordable match-day ticket is the most expensive in the division at £38, while Arsenal's most expensive seat is again the highest with some in their top category costing £126, though the club says that "accounts for less than 100 match-day tickets available per top-category fixture".
A spokesman for Liverpool said: "Following last year's price freeze, this year we reviewed our overall stadium pricing structure and, similar to many other Premier League clubs, introduced a multiple-tier pricing structure which more accurately reflects seat location and view.
"This new approach to ticket points at Anfield resulted in all Kop tickets being reduced or remaining flat in price for the second year in succession and the majority of away fan prices reduced or held flat.
"As part of our planned approach to making Anfield more accessible to families, last season we invested in a new Family Zone area and Family Park at Anfield. We have also introduced a number of junior ticket price points to make Anfield more affordable for families, including a new low £5 children's ticket for selected games."
More than half of the clubs in the top flight have either reduced or frozen their cheapest match-day ticket.
Newly promoted Crystal Palace and Hull City have dropped their cheapest season-ticket prices this season, while Cardiff have frozen theirs, which are the third-cheapest in the top flight.
Palace chairman Steve Parish said: "We want to make football accessible to people. We want to make sure that true Palace fans come to the games."
The Eagles sell the most expensive pie in England's top four divisions, charging £4, while Manchester United sell the dearest cup of tea in the country at £2.50.
Manchester City have gone from having the most expensive cup of tea last season to, at £1.80, the joint-second cheapest in the division after Cardiff City, who charge £1.70.
Last season, the Premier League had record season-ticket sales with 476,776 adult tickets sold, beating the previous best of 476,267 in 2007-08. Top-flight attendances grew by 4% last season.