Giovanni Trapattoni admits his Republic reign almost over
Last updated on .From the section Football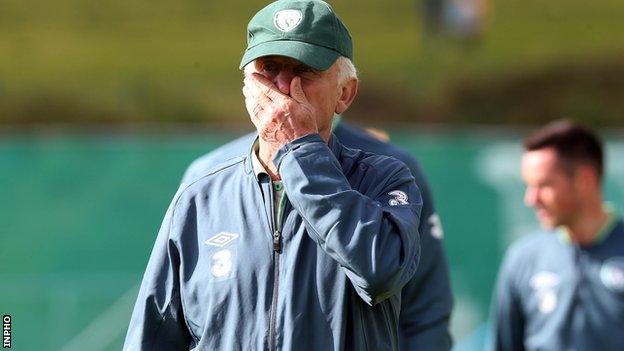 Giovanni Trapattoni has accepted his reign as Republic of Ireland manager is likely to end after the current World Cup campaign finishes.
The 74-year-old was defiant in the wake of Friday's 2-1 home defeat by Sweden, which effectively ended the team's chances of making it to Rio next year.
However, speaking ahead of Tuesday's game with Austria, he admitted his six-year tenure may not be extended.
"I don't expect after this campaign, to go again with Ireland," he said.
It is the first time the Italian has accepted he is unlikely to be in charge for qualifying for the 2016 European Championship, but he pointed to his record over the past three campaigns as proof of the improvements he has made with the team.
"Over five years, I think we have achieved a good result," he said.
"We have changed the team, we have improved the ranking, we have moved on players and discovered many others.
"In France, the first time in the (2010) World Cup play-off, you know we deserved to go through; then we achieved qualification for Euro 2012; now maybe the third position could be also a good result for us.
"Obviously, I thought until Saturday we could qualify and if we did achieve that result, then after Brazil, sure, I don't think about continuing."
However, when asked if he would resign before the current qualifying campaign ends next month, Trapattoni said: "Me? No.
"I can continue and help the next manager because in this short time, maybe this player or another can show the next manager where he can place his trust and how to develop him."
Former Northern Ireland international, and ex-Celtic, Aston Villa and Sunderland boss, Martin O'Neill, has already been installed as the bookmakers' favourite to succeed Trapattoni.
However, Republic skipper Robbie Keane backed his under-fire manager at Monday's team announcement.
"The first few hours after a defeat are the hardest," said the striker.
"Once you get a few hours sleep you realise that that's the great thing about football, it always gives you another chance.
"And I think if you'd seen the training sessions yesterday then you'd appreciate that that's the way the lads are thinking now."
Keane also, in forceful terms, hit out at the criticism directed at the Republic team for not varying its tactics from a largely long ball game.
"We've never had a Plan B, not in my time. We haven't had the players to get the ball down and play like Spain with 80 per cent possession, we've always played exactly the same way."