Price of Football: Huddersfield cheapest Championship day out
By Karen Fazackerley
BBC Sport
Last updated on .From the section Championship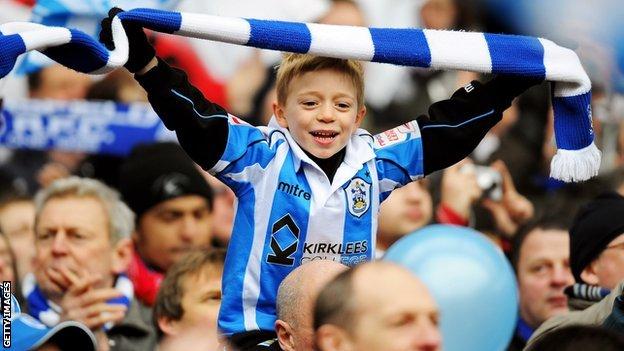 Huddersfield provide the cheapest Championship match-day experience for the second consecutive season, BBC Sport Price of Football has found.
The lowest-priced adult ticket has remained at £10, with the addition of a match programme, a cup of tea and a pie making a total day-out cost of £17.80.
Only League One Sheffield United, at £17.70, provide a cheaper match-day experience in the Football League.
Blackpool have the Championship's cheapest season ticket at £195.30.
Ipswich have the costliest at £1,061, £311 more than their nearest divisional rivals, Leicester City, and £111 more expensive than the dearest season ticket at Premier League champions Manchester United.
They also offer the most expensive match-day experience in the Championship.
The highest-priced ticket at Portman Road costs £63.50, but that includes a £3 programme, tea and coffee, and access to an exclusive bar. The cheapest match-day ticket at Ipswich is £23.50.
"We recognise that we are more expensive in some areas of ticketing than a number of Championship clubs but in other areas we are very comparable with our league rivals," said a club spokesperson.
"We have frozen season ticket prices for the third successive year and the seventh time in 11 years. Our supporters under the age of 11 could again purchase a season ticket for just £10."
Derby, like Huddersfield, offer a £10 match-day ticket but, with a cup of tea 20p more expensive at Pride Park than the John Smith's Stadium, their cheapest day out is £18.
Huddersfield chairman Dean Hoyle told BBC Sport: "In terms of our match-day prices, our categories mean we have flexibility and can match prices with the circumstances of each game through the season. Our cheapest 'PROMO' category has been retained as we wanted to make all the fixtures as affordable as possible.
"We have to balance ticket affordability with the financial cost of running the club and also building our fanbase.
"We do recognise that times are tough for many supporters. We want to provide flexibility and something for everyone so as many as possible can watch us in live action."
The BBC Sport Price of Football study looked at 166 clubs in 10 divisions across British football, including the Conference Premier and Women's Super League.
It found QPR, Reading and Wigan have all lowered their cheapest adult match-day ticket prices following relegation from the Premier League, by 20%, 32% and 25% respectively.
Wigan chairman Dave Whelan told BBC Sport: "When you go down, instead of playing 38, you play 46 matches. Now people are usually prepared to pay more to watch Premier League football than they are Championship football, so what I thought we'd do is keep our season tickets at the same price.
"Whatever you do and wherever you go, football is the topic people talk about and even the children talk football, football, football. It's fantastic for the game but how long can it last? It doesn't seem to be struggling. The Premier League is going from strength to strength."
League One champions Doncaster have raised their cheapest adult match-day ticket prices by £6 to £21, while their most expensive match-day ticket has risen from £23 to £25. But the cost of a pie at the Keepmoat Stadium has fallen by 10p.
Their fellow newly promoted sides Bournemouth and Yeovil have raised their cheapest adult match-day ticket prices by 11% and 29% respectively over the summer - from £18 to £20 at Dean Court and £17 to £22 at Huish Park.
At £2.30, Wigan have the cheapest pies in the Championship, while Brighton & Hove Albion have the most expensive at £3.80.