FAW and coaches to blame for Wales' failure - Verheijen
Last updated on .From the section Football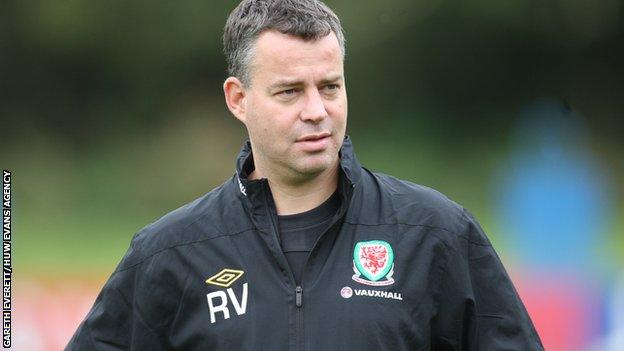 Former Wales Assistant manager Raymond Verheijen says the FAW and the current coaching set up must share the blame for the team's poor results.
Gary Speed's former number two accused Welsh football of having a "jobs for the boys culture".
"It's very sad, especially for the players because they are a very, very talented generation and basically they have lost two years," said Verheijen.
The Dutchman claims the responsibility for the national team's results lies within the FAW.
"The coaching staff first of all of course because they are responsible for turning very talented players into a very strong team which clearly hasn't happened.
"And secondly of course the people who are responsible for appointing this coaching staff, [and] that is of course the FAW.
"But another problem of Welsh football that I've experienced is also, let's say the former players who are part of the media now, who were also strong advocates of jobs for the boys - jobs for their former team-mates so that is also a big problem in Welsh football."
Wales side have managed only two wins - both against Scotland - from seven games in Group A under manager Chris Coleman.
Verheijen, who is an advisor to an Armenia team which can still qualify from Group B, says former Welsh internationals always advocate former team-mates as candidates to be Wales manager.
He believes Welsh football is too parochial and needs outside influences and views to help it be a success. The only non-Welshmen to have managed Wales were Englishmen Bobby Gould and Mike Smith.
"What I remember from 2011 immediately it was very clear - and I don't know their names - the former national team players in the media immediately made sure one of their former teammates would become the new national team manager," said Verheijen.
"In a way, it is their way of keeping control of Welsh football, while the reality is that what Welsh football needs is influences from outside, because otherwise you keep living in your own little circle."
"What I am saying is that, the former national team players are equally part of the jobs for the boys culture at the FAW, because all the criticism now is towards the FAW.
"I have witnessed some of these former national team players are also part of the problem and are also part of jobs for the boys.
"That is not the intention, but they are part of jobs for the boys but they think they are helping. Their intention is not to take Welsh football down but it is the consequence.
"If some of these people are more open minded and introduce influences from abroad then you give Welsh football a great influence."
Verheijen, who resigned in February 2012 after Speed's death, says working with the Welsh football's governing body was a "joke" and claims Speed ignored the "dinosaurs" of the FAW council.
"It was a joke," said Verheijen.
"In the first few months of 2011, Gary played according to the FAW rules, so he accepted that structure.
"But like Craig Bellamy wrote in his book in the summer of 2011, Gary decided to do it his way and from then on he made decisions on his own.
"He didn't involve those dinosaurs of the committee anymore and that was the start of our success.
"It is unbelievable in modern football that the decision-making process of a national team is done with a group of 75-year-olds at all.
"Maybe it was like that 50 years ago, but that is not how modern football is run these days."