NI manager Michael O'Neill wants better from Kyle Lafferty
Last updated on .From the section Football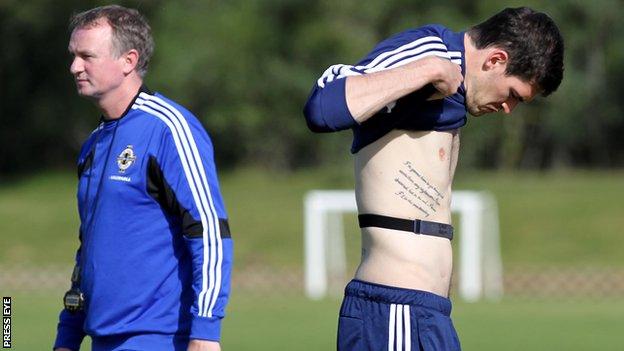 Northern Ireland manager Michael O'Neill has reiterated his unhappiness with Kyle Lafferty, claiming the striker has contributed "very little" to his country's World Cup campaign.
The Palermo striker's campaign has also included two bookings and no goals.
"He is still a player who can be a big asset to the squad. But at this minute in time he is not giving us very much and he knows that," said O'Neill.
Lafferty's dismissal against Portugal means he is suspended for Tuesday's qualifier in Luxembourg and he could be in line for a further two-match ban as a result of his straight red card last Friday.
Manager O'Neill revealed that Lafferty had apologised for his sending-off.
"I had a good conversation with Kyle and he was very apologetic and recognises he has let his team-mates down," added the Northern Ireland boss.
"I would never say I would wash my hands of him or anything like that.
"After quite a good start to the campaign he has contributed very little and he knows he won't have contributed very much in the second half of the campaign.
"He knows he needs to address that, not only for me but for the lads he plays alongside as well."
With qualification off the agenda and Luxembourg hardly presenting the most eye-catching opposition, O'Neill also found himself casting forward to the Euro 2016 trail.
Despite just one win in seven matches in Group F - and high hopes for a second at the Stade Josy Barthel - his evolving squad have shown signs of encouragement.
The defeat of Russia last month is an obvious high point, but both performances against a highly-rated Portugal side have been positive, despite yielding just one point.
O'Neill is expected to be given a contract extension for the Euro 2016 qualifiers and he is keen to have 33-year-old defenders Aaron Hughes and Gareth McAuley on board for the next campaign.
"I've had a good conversation with Gareth and then there's Aaron...he has been the easiest player I've had to deal with.
"I would certainly be pushing Aaron to continue. I brought him out of retirement and asked him to play not in his natural position (right-back instead of central defence).
"The fact that he does that and continues to do that at such a level is testament to the player. He's still so vitally important to us."
Hughes has 87 caps to date and O'Neill believes the prospect of joining goalkeeping great Pat Jennings as only the second player to reach a century for his country could be the incentive he needs.
Manager O'Neill says the 1-1 draw when the sides met in Belfast shows that his team must adopt the right attitude in Tuesday's game.
"There are no easy games at all. None at all," said O'Neill.
"We have to approach this game, the same we would approach opposition of the level of Russia or Portugal.
"We dropped points at home to Luxembourg. We were extremely unfortunate on the night and we want to make amends for that."
Luxembourg were beaten 4-1 by Russia on Friday night.