Adam Barrett: Gillingham's winless run difficult for players
Last updated on .From the section Football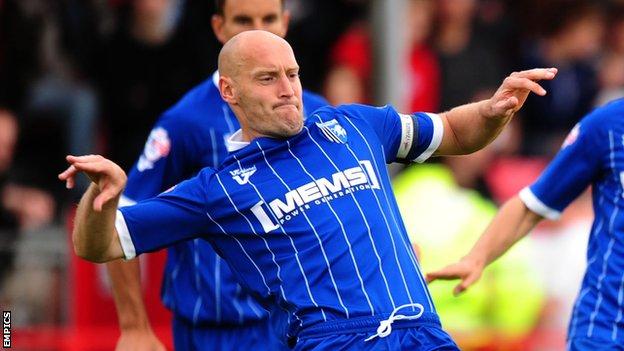 Gillingham captain Adam Barrett says the side are "desperate" to record their first win in League One.
The Gills have picked up three points from their opening six games.
The 33-year-old told BBC Radio Kent: "Coming off the back of last year, everything went our way and at the moment we are finding things tough.
"We are desperate to get that first win. The longer it goes on the harder it becomes. That first win would settle everyone down."
The centre-back added: "It is difficult, of course it is.
"We are all aware of it but there is an awful long way to go and a lot of points to play for. We have really got to start scrapping."
Gillingham won the League Two title last season and are back in the third tier for the first time since 2009-10.
The Priestfield Stadium side's three-match unbeaten league run came to an end on Saturday when they lost 3-2 at Crawley Town.
The Gills are in the relegation zone but Barrett says they have plenty of time to pull away from the foot of the table.
"It is six games in and there is a long way to go," he said.
"We need to start fighting as we want to get out of this little situation we are in and start climbing the table.
"Teams do have bad starts and recover.
"We have just got to make sure we are one of those teams.
"The lads will never give up and there is no negativity or downheartedness there.
"We all believe we are more than good enough to climb the table. Things haven't quite gone for us and it seems like we are getting punished for every half mistake.
"We will be alright. It has been a difficult run but we need to start scrapping for each other and make sure we get out of this patch."