Marcello Trotta: Brentford boss Uwe Rosler backs on-loan striker
Last updated on .From the section Football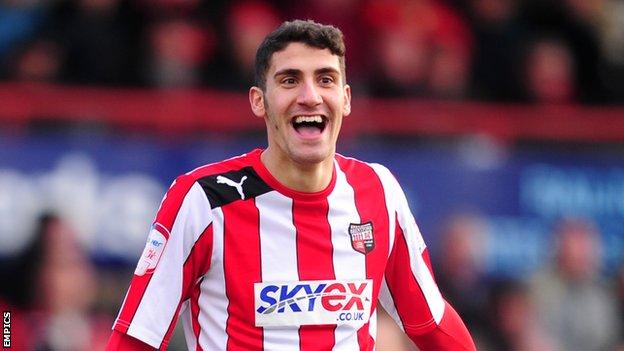 Brentford boss Uwe Rosler says on-loan striker Marcello Trotta could play a crucial role in their promotion push.
Rosler told BBC London 94.9: "I just ask everybody to give him a chance. He is here and fighting the same cause as we are all fighting for.
"We all want to get promoted. He can be a very important part and add goals to the table which could be the difference between going up and not going up."
Fulham youngster Trotta is back for a second spell at Griffin Park after scoring nine goals in 29 appearances while on loan at the League One club last season.
However his first game back was cut short when he was substituted after 27 minutes at Bradford on Saturday following a red card for goalkeeper David Button.
"We have to give him time to settle in again as he didn't have the greatest pre-season at Fulham," Rosler added.
"I believe his start will probably be a bit rocky.
"He is a young player who is just 20 and I think he has qualities which our other strikers do not have in abundance.
"The other strikers can make up for his weaknesses. It is all about combining a team with different qualities."
Trotta's spell at Brentford last season was marred when he missed a last-minute penalty in their final game against Doncaster, which effectively cost the west London club automatic promotion.
"I think human nature is that people always try and focus on negative things instead of positive things," Rosler said.
"A lot of people are judging Marcello's loan spell last season on the missed penalty against Doncaster.
"I judge his loan spell on the fact he joined us on the 24th of November and after that we went 10 games unbeaten and seven of them we won.
"Marcello played every game. He had a massive impact at that time and started our momentum."
Despite his miss Trotta was mobbed by Brentford supporters following their play-off semi-final win over Swindon Town and Rosler is not expecting any ill feeling from their fans this season.
"I was very happy after the Swindon game; with how our supporters reacted, how they gave him a chance and how mentally strong Marcello was to go into the game and give a performance like that," the German said.
"Not even me, at 30 years old, would have put such a strong mental performance in like he did.
"I felt our supporters had forgiven him and made up with him - however you want to call it."