Financial Fair Play: Brighton hope for Football League clampdown
Last updated on .From the section Football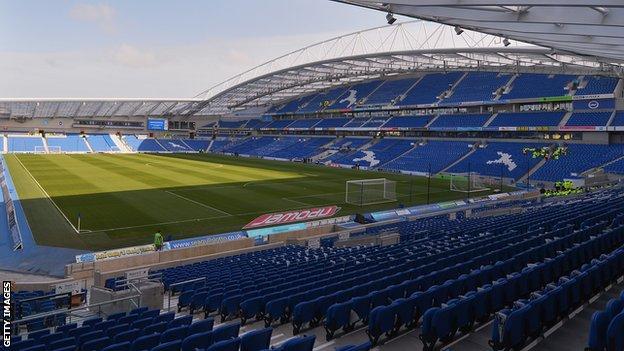 Brighton & Hove Albion head of football operations David Burke hopes the Football League will clamp down heavily on those clubs who fail to abide by the new Financial Fair Play rules.
"We at Brighton have been planning and working hard to get in line with FFP," Burke told BBC Sussex.
"There are a number of clubs that we know already will not be within the financial limits.
"We hope the Football League will be really strong with the transfer embargos and the fines, or taxes, are imposed properly.
"The idea is that these clubs will be penalised."
The Seagulls have undergone extensive cost-cutting in order to fall into line with the new system, which is aimed at controlling spending.
Clubs which fail to meet Financial Fair Play regulations will be subject to a transfer embargo until they lodge fresh financial information which demonstrates they meet the regulations.
If a club is promoted to the Premier League but breaches the regulations, they will have to pay a 'Fair Play Tax' on their excess, ranging from 1% to 100%, which will then be distributed between Championship teams who comply with the rules.
"We know the ins and outs of every part of it and we have had to save about £3m in total across the club," Burke added.
"That has meant a huge effort from the club to reduce costs. It has enabled us to hit this first year with a player budget which is the same as last year.
"We at Brighton have been diligent and planned meticulously for this event so that we are in a strong position.
"The true impact won't be known until everybody posts their results in November 2014.
"We can then see who was within the financial limits."
However Burke believes other clubs may be pushing the boundaries of the Football League's rules.
"I don't know the finances of the other clubs but those clubs that appear to be spending a lot of money play a dangerous game," he said.
"They put their club at risk.
"The whole point of Financial Fair Play is to try and make it a more even playing field, which is questionable, but to also ensure we don't have a situation like at Portsmouth where lots of creditors aren't getting paid and clubs are on the brink of going out of business.
"The rules are good as it stops that type of accounting at clubs.
"My experience of the transfer window is that practically every club hasn't bought players and is trying to get rid of players - hence why the wages are coming down and there is a glut of players, especially midfielders.
"One or two are playing with the rules. Maybe historically they spent too much in the past and are still struggling to get their wage bill down, or because they want to take the gamble of spending as much as they can now [to try and get promotion].
"If they don't go up this season I think they will find themselves in a lot of trouble."
Brighton fans have seen ticket prices and some other costs increase following their move to the Amex Stadium as chief executive Paul Barber aims to increase commercial income, but Burke has called on supporters to "trust the club".
"The club is there for the long-run and stable," Burke said.
"Everything the chairman [Tony Bloom], the board and Paul Barber does has a long-term plan for the football club.
"Successful businesses are run on targets and at Brighton that foundation is in place.
"Whether we get in the Premier League this year or two, three or four years' time, that is the aim.
"Everything we do is to strive to get into the Premier League but we are constrained now by Financial Fair Play.
"Even if Tony wanted to lose more than £8m of his own money next year he can't do it as it takes us over the ceiling.
"You can't do it unless you want to take on the fines or the transfer embargo.
"Next season we will have to save money again and the season after."