Manchester United boss David Moyes driven by European past

By Phil McNulty
Chief football writer
Last updated on .From the section Man Utd623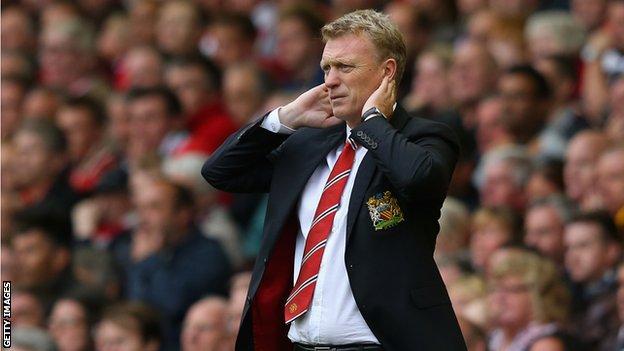 David Moyes will not merely enter new territory when he takes charge of Manchester United in the Champions League for the first time against Bayer Leverkusen at Old Trafford on Tuesday.
The Scot will also embark on a journey that might go some way towards erasing one of the darkest moments of his managerial career at Everton.
No less an authority than Arsene Wenger described Moyes' work in taking Everton into the Champions League places in 2004-05 after the sale of Wayne Rooney as "a miracle" - words echoed by many at the time.
And yet what should have been the crowning glory of his time at Everton ended in disappointment, acrimony and wounds that he will hope to heal when he makes his return to the competition in charge of the Premier League champions.
Not only did Everton land arguably the toughest qualifying draw possible in La Liga side Villarreal, they were then victim of a controversial decision by referee Pierluigi Collina to rule out a late Duncan Ferguson goal that would have taken the second leg in Spain to extra time after a 2-1 defeat at Goodison Park.
Villarreal went through 4-2 on aggregate and reached the semi-final, where they lost to Arsenal.
It is a decision that rankled with Everton and Moyes for many years, with an obvious hangover from the disappointment wrecking the start to their season, which also saw a humiliating 5-1 defeat to Dinamo Bucharest in the Uefa Cup.
Moyes has yearned for another crack at the Champions League, not simply to right that wrong but also to prove his pedigree on the European stage after unfulfilling treks to foreign soil at Everton.
This European experience, or obvious lack of it, was an unticked box - alongside his failure to win a trophy - when any questions were posed about his suitability to take charge at Old Trafford when Sir Alex Ferguson announced his retirement after 26 years as manager.
Moyes took Everton into Europe but never made any serious impact. A defeat on penalties to Fiorentina in the Uefa Cup last 16 in 2008 was his best effort. But there was also that loss to Dinamo Bucharest - not a shining football light at the time - and a defeat to an admittedly high-quality Standard Liege side in the same competition early in 2008-09.
It is in Moyes' make-up to try to answer those questions from the past as he leads Manchester United into Europe. The attraction of pitting his coaching skills against the continent's finest minds only adds to the appeal.
And when he makes his way to the technical area at Old Trafford on Tuesday, he will be greeted by another Champions League coaching rookie - and a familiar foe from his Everton days.
Former Liverpool defender Sami Hyypia enjoyed his share of successes as a visiting player at Old Trafford. Now he is entrusted with the task of guiding Bayer Leverkusen and is already showing the mix of intelligence, organisation and sound tactical sense that made him a figure of significance during a decade at Anfield.
His last memory of Old Trafford is a happy one, playing as a replacement for the injured Alvaro Arbeloa in Liverpool's 4-1 win in 2009.
Moyes will have plenty of reasons for wanting to ensure Hyypia does not enjoy his visit on Tuesday. They go beyond any desire for revenge on the Finn for helping Liverpool get the better of his Everton side so often in derbies.
United's new manager may be short on Champions League managerial experience, but this assiduous scholar of European football will have been making up for lost time and filling any gaps in his knowledge once he was
He will not simply be motivated by an old sense of injustice but also by a determination to demonstrate that he is comfortable on this elevated stage. He has the confidence to believe he will succeed.
Moyes must also assume the responsibility of putting United back into Europe's elite group of teams. Their recent Champions League record confirms they are not part of a main power base that has shifted to Germany and Spain - in the shape of Pep Guardiola's Bayern Munich, Borussia Dortmund under the charismatic Jurgen Klopp, Barcelona and Real Madrid.
Bayern, Real and Barcelona will be the early favourites and Moyes faces a tough task to gatecrash that trio and make a meaningful attempt at bringing the trophy to Old Trafford for a fourth time.
It is a heavy weight on a manager whose Champions League experience extends to two qualifiers that ended in eventual defeat - but his predecessor Ferguson and United's hierarchy clearly he felt he had the ability and players to carry it.
It was part of the package that made Old Trafford so irresistible to Moyes. If he has any doubts about his lack of Champions League pedigree, he will not share them.