England boss Roy Hodgson backs newcomer Rickie Lambert

By Phil McNulty
Chief football writer in Kiev
Last updated on .From the section Football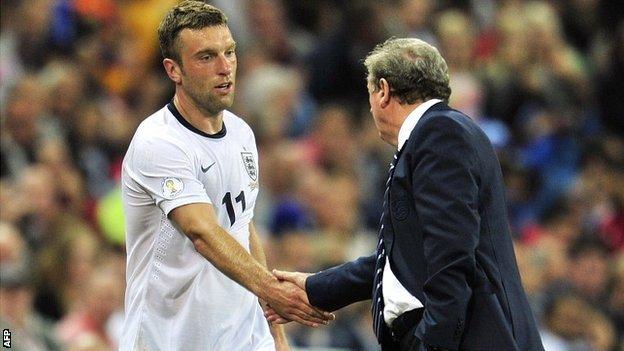 England manager Roy Hodgson has attempted to ease the pressure on international rookie Rickie Lambert as he leads their attack in the vital World Cup qualifier in Kiev on Tuesday.
Southampton's Lambert, 31, will win his third cap after scoring in his first two games against Scotland and Moldova.
Regular strikers Wayne Rooney and Daniel Sturridge are injured, while Danny Welbeck is suspended after picking up a yellow card against Moldova on Friday.
Hodgson said: "I'm a bit worried we're going to hang too much on him. The important thing for me is that he plays his part in the team, that will make certain he doesn't let us down in any way.
"And who knows? He might surprise us and add a third goal to the fairytale but if he doesn't I still think he's going to be a player going forward that England will get some use out of."
Hodgson, 66, has been impressed by the way Liverpool-born Lambert has swiftly established himself in the team, despite being an England latecomer and having fought his way up through the lower divisions to the Premier League.
Lambert, who used to work in a beetroot factory, played for the likes of Macclesfield, Stockport and Bristol Rovers before becoming the leading English scorer in the Premier League last season.
"One thing you have to say is that he must have a very strong mentality," said Hodgson.
"If you look into his past, to suffer that many knockbacks, then surely he hasn't suddenly become a talented footballer who has got good touch on the ball, works hard for his team and had got a good understanding.
"He must have had that for quite a number of years and yet people have been watching him play and passing him over, me included, because I was watching him for a year before I included him in the team. I'm not suggesting I'm any different.
"You have got to be pretty strong mentally to keep believing in yourself and to believe you are still a good player and wait for your chance. And when it comes along, to take it like he has, has been quite fantastic."
Hodgson added: "I'd like, if anything, to play down Rickie Lambert for his own sake because it is almost fairytale-like. You get selected at 31 having played in the lower leagues and you come on and score a fantastic goal against Scotland, his movement and the header - it doesn't get better than that.
"Then to play a full game you score one more and make two and look as though you've never been outside an England set-up in your life, that's some achievement."