Rangers: Impasse over board changes may result in EGM
Last updated on .From the section Rangers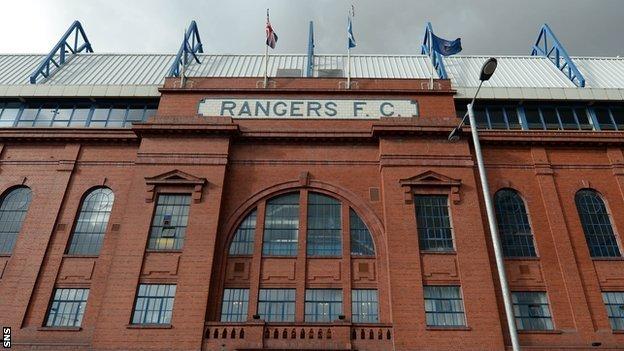 Notice of an extraordinary general meeting of Rangers shareholders could be sent by Friday if disagreement between directors and those seeking changes to the board is not resolved.
A group of shareholders want Frank Blin, Sandy Easdale and Paul Murray installed as directors.
The club want to avoid an EGM but are open to boardroom changes.
However, an agreement to combine this business with October's annual general meeting has not been forthcoming.
In a statement to the London Stock Exchange, Rangers said: "Further to the announcement on 4 September 2013, the company confirms that whilst the board's discussions have continued with representatives of the group who requisitioned (together the "requisitioners") a general meeting to consider the proposed resolutions ("requisition") detailed in the announcement on 2 August 2013 ("general meeting"), the board is disappointed to announce that no agreement has been reached.
"Unless an agreement can be reached prior to 13 September 2013, as set out in the announcement on 2 September 2013, the company will be required to send a notice to shareholders to convene the general meeting by no later than 13 September 2013."