Matt Bloomfield column: Ice baths, shakes and squats
By Matt Bloomfield
Wycombe Wanderers midfielder
Last updated on .From the section Football1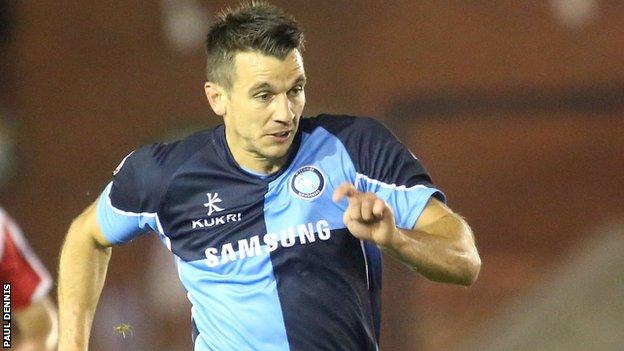 Being in peak physical fitness to compete at all levels of professional football means that preparation for training and games is now more important than ever.
Methods are always improving and evolving, and subtle changes are taking place as each season goes by.
Clubs in League One and League Two obviously don't have the budgets to spend on the medical department like the top clubs do, but we certainly do as much as we can to make sure we are in the best possible shape for a Saturday afternoon.
At Wycombe we have now introduced a "readiness to train" sheet that all the lads fill in every morning. It's simply a sheet that everyone writes the hours they have slept and also their "fatigue score" out of 10.
It's a way for the medical department to monitor tiredness among the squad and to keep an eye on individuals who might need a day of rest. There is no doubt that footballers are at their most vulnerable to injury when their body is fatigued, so it's a simple method to try and reduce that risk.
We also do an "activation circuit" every morning before training. Again, it's a simple idea that serves a very important purpose.
Exercises include single leg squats, core exercises, step ups, lunges and side-steps using a resistance band. It makes sure that the important muscle groups are warm and ready for training. Again it's about reducing the risk of injury.
Recovery is also imperative, it's the first step of preparation. Recovery shakes are waiting for us when we get off the training pitch. The earlier you can get protein, carbohydrates and nutrients to your muscles the quicker they will recover.
These shakes used to be provided just after matches, but as the game has evolved they are needed every day.
Ice baths are now common place at training grounds all over the country, and again these won't just be for match days. There aren't many days at our training ground when the ice bath isn't used.
The types of training sessions put on by the management staff varies significantly depending on what day of the week it is.
Monday and Tuesday will typically be high-intensity football and fitness-based sessions aimed at improving players' sharpness and either maintaining or improving fitness.
Tuesday will more often than not include an upper and lower body weights session to improve power or general strengthening, before making full use of the day off on Wednesday.
Thursday and Friday will see the intensity of training reduced greatly. The idea is to reserve energy levels the closer it gets to matchday.
These sessions are mostly spent on team shape and also tactical things referring to both our team and the opposition.
There might be something specific that the management want to work on or it might just be a general reminder of how we set up to attack and defend.
Friday is the day when the "old v young" small-sided games take place at the end of training. It's a great way of adding a competitive edge to the games and also a bit of fun to get everyone in a good frame of mind going into the most important day of the week - matchday.