AFC Bournemouth: Jeff Mostyn open to Cherries chairman role
Last updated on .From the section Bournemouth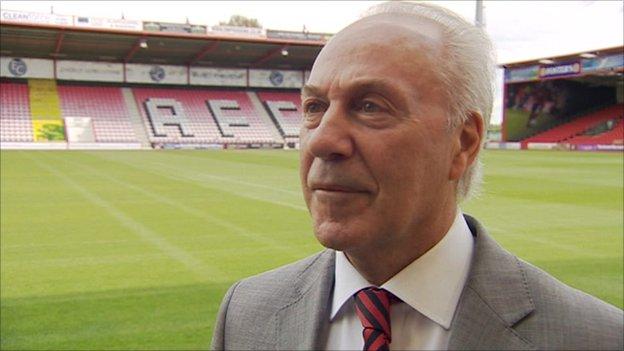 Bournemouth's vice-chairman Jeff Mostyn says he would be interested in taking over as chairman from Eddie Mitchell.
Mostyn was previously chairman before the club went into administration in 2007, and was part of the consortium that turned it around.
With Mitchell stepping down last week, and Russian owner Max Demin keen to keep a low profile, Mostyn says he will front up if asked.
"It's a privilege being part of this football club," Mostyn told BBC South.
"I'll do everything I'm asked to do and if Max and the board take on a different role then I'd be more than willing (to become chairman)."
Mitchell first bought into the club as part of a five-man consortium, which included Mostyn, in June 2009 and was installed as chairman.
Russian businessman Demin joined him as co-owner in October 2011, when he obtained the other 50% of the club.
And Mostyn has paid tribute to the job Mitchell has done, with the club undergoing a complete transformation on and off the pitch in that time.
"The record speaks for itself," added Mostyn. "Two promotions and we are at the highest level the club has ever been in the second tier of English football so I rest my case.
"He (Eddie) has done an amazing job. Not just on the pitch but if you look around the stadium, this compares with any stadium in our division. Our facilities are fantastic.
"History is in the making all the time, most people look at tomorrow rather than the past. When Eddie and I first got together four years ago the club was on its knees. Some two years later Max came in and I think the last two years has seen the most dramatic rise in the club's fortunes with Max supporting Eddie.
"Everything about this football club smacks of being at the top level and that is our ambition."
Mostyn also played down fears that the club was spending beyond its means and could be heading for another financial crisis.
"I've known Max (Demin) for three years," he said.
"I've never known anybody more ambitious than Max and the club is in extremely safe hands. If there was any doubt in Eddie's mind I'm absolutely certain he would not have sold his shares to Max.
"Max is now the sole owner of the club, it's in safe and very ambitious hands and the future of this football club is exciting."