England fan attack ahead of Ukraine game in Kiev 'isolated'
Last updated on .From the section Football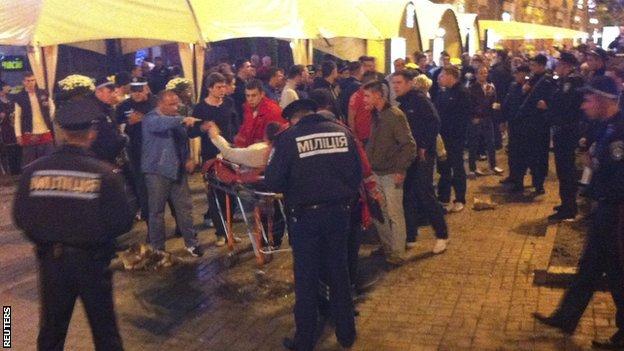 An attack on England fans in Ukraine ahead of Tuesday's World Cup qualifier was "isolated", according to a Football Supporters' Federation official.
Three visiting supporters were taken to hospital and later released following a confrontation on Sunday at a Kiev bar.
"The incident lasted four minutes and was the only problem here," said FSF chief executive Kevin Miles.
"Unpleasant though it was, it was an isolated incident. English fans were very much the victims."
Miles said the confrontation was sparked when Ukrainians attempted to take the flags of the England fans drinking inside and outside of the bar.
BBC reporter Duncan Crawford is in Ukraine and visited the bar where the incident took place.
He said: "The police in Kiev say that both sets of fans had been shouting insults at each other and that then a fight broke out."
David Stone was one of the three fans taken to hospital.
"We were having a few drinks in one of the main pubs in the main street of Kiev," he told BBC Radio 5 live.
"We had our England flags up as we normally do and, what I've been told, is that 20 or 30 of them came on to us. They threw CS gas and bottles in and the next thing I know is that I am in hospital.
"We were having a few drinks and the next thing I remember clearly is being taken to hospital and getting some stitches in my head."
About 2,000 England supporters are expected to attend Tuesday's match at Kiev's Olympic Stadium, with Roy Hodgson's team leading Group H but knowing they will be overtaken by Ukraine if they lose.