Nuneaton Town boss Kevin Wilkin would like to bottle winning formula
Last updated on .From the section Football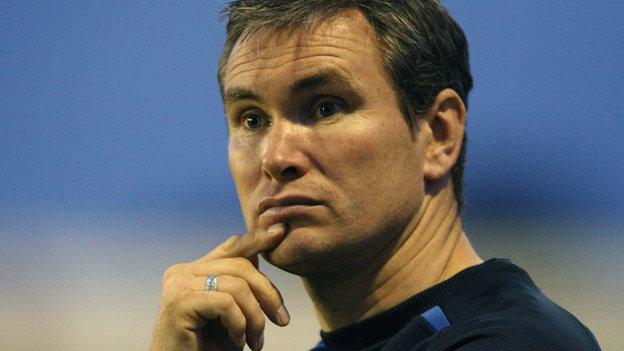 Nuneaton Town boss Kevin Wilkin insists that there is no magic formula to his side's unbeaten start to the season.
But, after seeing Boro go top of the Conference Premier, he admits, if there was, he would like to "bottle it".
"It's a combination of things, not just one reason," Wilkin told BBC Sport. "But the hard work and effort everyone puts in at the club is a major factor.
"A lot depends on luck with suspension and injuries. But, right now, I want to keep what we've got and bottle it."
Boro have gone top of the Conference for the first time in their current guise.
They last topped the table under Brendan Phillips in the autumn of 1999 when they were still Nuneaton Borough, prior to the old club's liquidation.
Their excellent nine-match unbeaten run this time round comes perhaps as even more of a shock given the doubts that surrounded Wilkin's own future at the end of last season, when he was strongly linked with the managerial vacancy at AFC Telford United.
But it is no surprise to Wilkin, who points out that his Nuns were already on a run when last season finally came to an end.
They actually lost only three of their last 13 games to escape the threat of relegation, winning the last three.
"We finished strongly," Wilkin told BBC Coventry & Warwickshire. "We were already playing well at the back end of last season, from January onwards.
"We've had several of our players recognised by England C call-ups.
"And it grows an expectation within you when you've had the success we've had over this opening period of the season."
Although having eight-goal striker Louis Moult (Tuesday night's match-winner against Hereford) at the top of the Conference scoring charts is a factor, Boro have also shored things up at the other end.
Wilkin has made the unusual decision to alternate the two new goalkeepers he signed in the summer - former Walsall trainee James Belshaw and 20-year-old Bulgarian Dimitar Evtimov, who is on a three-month loan at Liberty Way.
"I've got two fantastic keepers," said Wilkin. "And I've pretty much alternated them.
"The most either of them has played has been two games on the bounce.
"And it's helped us tighten things up defensively."
Kevin Wilkin was talking to BBC Coventry and Warwickshire's Shane O'Connor.