Qatar World Cup 2022: Top clubs 'open' to winter tournament
Last updated on .From the section Football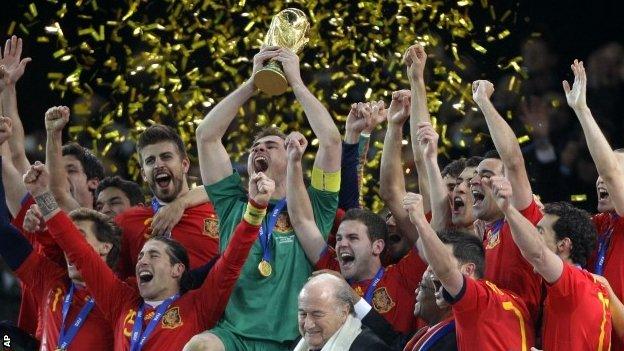 Europe's leading clubs have stated that they are "open" to the possibility of a winter World Cup in Qatar in 2022.
Fifa chief Sepp Blatter has called for the tournament to be moved because of concern over how players would cope in summer temperatures of 40C and above.
Karl-Heinz Rummenigge, the chairman of the European Club Association, which represents the top teams, said: "It is probably better to play it in winter.
"We're not in a hurry, there are still nine years to go."
Since Qatar won the right to host the World Cup in 2010, the practicalities of staging a summer competition in the Middle East have been debated.
After voicing his own concerns in July, Blatter said he would consult the host nation and his executive committee about his proposals to have the World Cup moved to the winter.
The Swiss Fifa president has also suggested that it might have been a "mistake" to award the Gulf state the World Cup.
Rummenigge added: "Having the World Cup in Qatar is not a mistake.
"After visiting Qatar at our last general assembly we had a good feeling about the organisation of a World Cup there."
Football Association chairman Greg Dyke told the BBC in August that a summer World Cup in Qatar would be "impossible".
However, the Premier League has taken an opposing stance, with chief executive Richard Scudamore saying: "My view is you can do it in the summer.
"The bid was extremely thorough, they dealt with all the issues about the heat and the managing of the air conditioning in the stadiums."
There are 10 English teams who are members of the European Club Association - Arsenal, Aston Villa, Chelsea, Everton, Fulham, Liverpool, Manchester City, Manchester United, Newcastle and Tottenham.
The ECA is an independent body representing the interests of Europe's clubs. It replaced the G14 Group and the European Club Forum in 2008 and is recognised by both Fifa and Uefa.
There are 214 members, with an executive board headed by Bayern Munich chief executive Rummenigge, who was re-elected as chairman on Tuesday.