World Cup games a fresh start for England - Casey Stoney

By Casey Stoney
England women's captain
Last updated on .From the section Football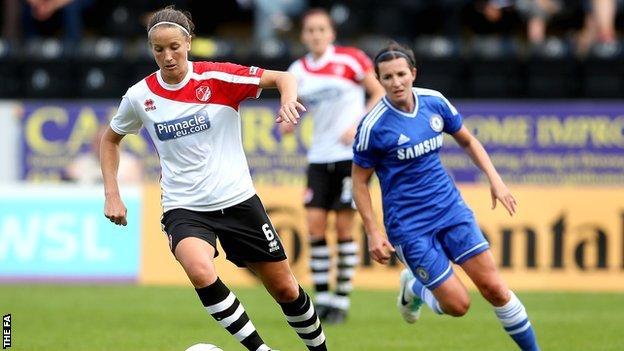 England and Lincoln Ladies captain Casey Stoney is writing a regular column for the BBC Sport website this season.
Here she talks about how she is relieved to be in the England squad for the upcoming World Cup qualifiers, who the players are talking about as a replacement for previous manager Hope Powell, and how Liverpool can win the Women's Super League title.
The two World Cup qualifiers against Belarus and Turkey later this month will represent a new beginning for the England women's team following our bitter disappointment at Euro 2013.
Sometimes the best thing about football is getting over your previous setbacks by playing again and I can't wait to bury the ghost of the European Championship.
It seems ages since we were knocked out at the group stage in Sweden and the girls will be buzzing to get together and show everyone that we did not meet our usual standards.
And on a personal level, I will be looking to prove that I am good enough to be in the squad and good enough to continue as captain.
With temporary coach Brent Hills coming in to replace Hope Powell, it was a long wait until the squad was announced last Monday. As a player you don't know if a new manager will value you in the same way, so to get the confirmation email on Sunday was a relief.
Sometimes change is a good thing because it challenges you to strive for more. Things can become a bit stale in any environment, but now everybody is checking over their shoulder and thinking: 'Am I going to get picked?'.
The players will need to improve, and with the Football Association looking to appoint a permanent manager, it will be an interesting few months.
Brent is a fantastic coach - he gives great information - and I would expect his name to be put forward for the role on a long-term basis.
Even though he was Hope's assistant, he will want to put his own mark on the team and he already has in recalling Liverpool Ladies striker Natasha Dowie and picking Arsenal forward Danielle Carter for the first time.
But I would imagine he won't want to change too much too quickly and he is more than qualified to take the team forward after these two games, as are the other candidates that have been mentioned.
Canada boss John Herdman and New York Fury coach Paul Riley are two names that have excited some of the England players.
To be honest, I hadn't heard much about Riley because I haven't played out in the United States, but some of the girls recommend him highly.
Herdman was the New Zealand coach when we beat them in the 2011 World Cup and he managed the Canadian side that knocked out Great Britain in the 2012 Olympics quarter-final and went on to win a bronze medal.
For me, it doesn't matter whether the new England manager is male or female - it is just about getting the best person to take us to the next level.
I don't necessarily think we need to change our style because, apart from the Euros, we play some very good football - it's just making the difference sowe can get past the last eight in major championships.
As for Hope, I'm sure that after 15 years in the job she will take a good break, but I think she will come back into football in some capacity whether it's punditry, management or an ambassadorial role.
She is the most experienced and most qualified woman in women's football, but where do you go from being England manager?
There was some talk she could take over as the recently advertised head of elite women's development at the FA but, now she has left the organisation, I can only assume the FA wants to go in a different direction.
Liverpool to snatch Women's Super League title
On a domestic level, to say that this season has been disappointing for my club side, Lincoln Ladies, is an understatement.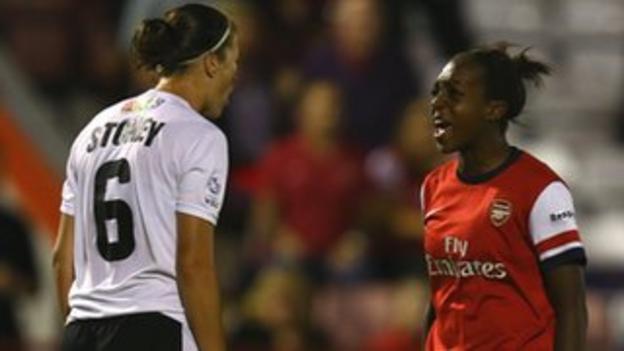 We are second bottom of the Women's Super League table, having won one game this season, but our recent 0-0 draw with Arsenal Ladies had some say in the title race.
With only two games left, Liverpool are three points clear of reigning champions Arsenal and it was disappointing after our game with the Gunners to hear comments from their camp saying we parked the bus in front of the goal.
If you go to Arsenal, you cannot go with all-out attack because we haven't got their squad, so we had a disciplined game plan and hit them on the counter attack, and we actually had two or three of the game's best chances.
I pride myself on my defending and I thought we deserved a point, and it's no coincidence we have got good results against the top sides a few times this season. In fact, apart from Arsenal, we have conceded the fewest goals in the league, which tells its own story.
The upshot of that game is that three teams - Liverpool, Arsenal and Bristol Academy - can now win the league going into the penultimate game of the season and that is great for women's football.
I said earlier in the season that I thought Liverpool would win it - and I'm not going to change my mind now. They have to play Everton and then Bristol in their last game, which could end up being a title decider, so it could be the most exciting finish to the WSL yet.