IFA confident Windsor Park redevelopment still on track
Last updated on .From the section Football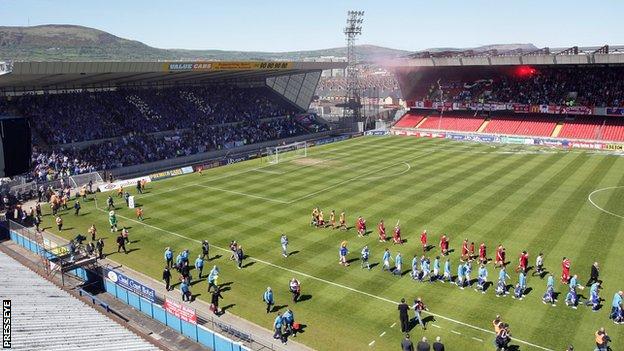 IFA Chief Executive Patrick Nelson is confident Windsor Park will be rebuilt on time and to budget, despite concerns over the governance of the Association.
On Tuesday, Sports Minister Carál Ní Chuilín said she will not provide £26m funding for the redevelopment until the IFA has "appropriate governance".
Nelson insisted the IFA are working closely with DCAL to resolve the issue.
"I'm confident we'll be able to get to a place where DCAL are happy and we're happy," he said.
The controversy centres on the appointment of Amateur League official David Martin as deputy president of the Irish Football Association.
Members of the IFA's council unanimously backed Martin for the position - even though he had been forced to resign from the same post three years ago and had subsequently failed a suitability test for senior office.
Martin's 2010 resignation was a result of his role in the unfair dismissal of Howard Wells as IFA chief executive, something which cost the association £500,000. The then president Raymond Kennedy also had to stand down.
The IFA scrapped the requirement for suitability assessments for senior officials earlier this year.
"I need to be assured that appropriate governance and accountability structures have been maintained," said Minister Ní Chuilín in the Assembly.
"Until that happens, I can't sign off on any agreement."
Nelson insisted he was encouraged by the minister's statement, viewing it as a sign of DCAL's commitment to working through the current impasse with the Irish Football Association.
"DCAL are looking to resolve the current matters with us and they're hoping to do that expeditiously," he said.
"As the guardians of public money, they need to be assured that our governance is sound. We're working with them to give them those assurances.
"We're confident we have very strong governance at the Association.
"We have come a long way on those sort of issues, we've had a number of independent reviews done and we're classed as being satisfactory.
"We're hoping to keep the stadium programme on track and look forward to delivering all the benefits that the national stadium has promised for many years."
Nelson confirmed that the redevelopment at Windsor Park will be completed by the middle of 2015, with the stadium maintaining a capacity of at least 10,000 throughout the rebuild.
Northern Ireland manager Michael O'Neill said last week that it is vital the redevelopment of Windsor Park goes ahead without any delays.
Meanwhile, NI supporters groups have urged the IFA to ensure that government funding for the stadium is not put in jeopardy.
Martin is a long-serving officer of the Northern Amateur Football League which has 94 IFA-affiliated clubs.
He could be a candidate for the IFA presidency in 2015 when present incumbent Jim Shaw's five-year term is due to end.
The stadium redevelopment work will see two new stands at Windsor Park, plus the refurbishment of two others increasing the capacity from 12,000 to 18,000.
Also planned are new lights, under-pitch heating and drainage, a museum and conference facilities.