Robbie Savage: England workmanlike, but lacking creativity
Last updated on .From the section Football

In his regular BBC Sport column on football tactics, Robbie Savage says England's goalless draw against Ukraine was workmanlike but exposed the side's lack of quality without key creative players.
It was a professional job by England in Ukraine. Roy Hodgson's team got the point they needed, but I thought the ball retention was poor and it was further confirmation that this is a team that will not win the World Cup next year in Brazil.
England missed three key creative players: Wayne Rooney, Danny Welbeck and Daniel Sturridge and that denied them the necessary pace to hit Ukraine on the counter attack.
Without that trio - who were either injured or suspended - Hodgson picked the right front three in James Milner, Rickie Lambert and Theo Walcott.
And although England defended well, the bigger problems came in keeping the ball in midfield. It makes you wonder why Manchester United midfielder Michael Carrick did not play.
England's lack of cutting edge
It was a cautious performance by England and, quite frankly, a boring game. But, give credit to Hodgson; his team got the job done and his team stay top of Group H.
It was more important to avoid defeat than to win and without Rooney, Welbeck and Sturridge England's options were limited.
Rickie Lambert did not score but he did a decent job for the team, he held the ball up well and set up a couple of chances early on for Walcott and Steven Gerrard.
But if you swap Lambert, Milner and Walcott for Rooney, Sturridge and Welbeck, England have a completely different side and they need that trio in their last two games at home against Montenegro and Poland.
England have not managed to beat any of their main rivals in Group H, and if you take away San Marino and Moldova, they are yet to score more than one goal against Montenegro, Ukraine or Poland.
That could stem from a lack of service from midfield.
Midfield problems
You can talk about tactics all you like, but if you can't keep the ball, the formation and system go out of the window.
It is a recurring problem for England and, on a night where Jack Wilshere was below his usual high standards, the game was crying out for Carrick.
He is the best English player at keeping the ball in tight areas and he was Manchester United's best player last year so why he wasn't selected is beyond me.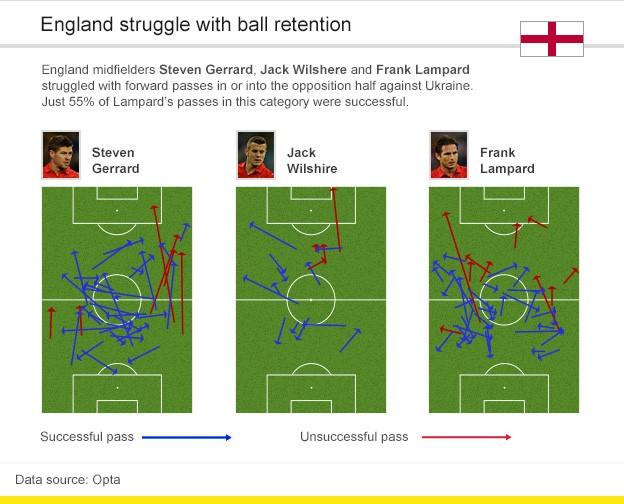 Carrick has more experience than Wilshere, but together those two can provide the platform that England need to have any sort of success in Brazil.
You cannot leave out Gerrard, so would Frank Lampard be the one to be sacrificed? That is tough call but one that might need addressing before the end of the season.
Lampard was the worst offender in terms of forward passes against Ukraine - only 55% of his passes into or in the opposition half were successful, while Wilshere reached 63.6% and Gerrard 78.3% in this category.
Right now, England are an average side. They are unbeaten in their group and I think they will qualify but when it comes to a major tournament they are going to have retain the ball.
Solid in defence
Overall, the best bit about England's display in Kiev was the defending.
Gary Cahill was outstanding in the centre of the defence, he has had a great start to the season and his performance was almost John Terry-like.
On hand to clear early on in the game when Joe Hart had a few wobbles, Cahill provided a solid base alongside Phil Jagielka.
The former Bolton man is becoming a mainstay after years of us wondering who would replace Terry and Rio Ferdinand.
Hart was nervous to begin with, it was a close penalty call in the first minute when a cross came in and Roman Zozulya beat the Manchester City goalkeeper to the ball, but I'm not sure there was too much contact.
Hart then recovered and punched a few Ukraine crosses clear and, after a promising spell from the hosts in the first 20 minutes, he settled down, like England.
Ukraine's left-winger Yevgeni Konoplienka was their best player and he caused England right-back Kyle Walker plenty of problems.
At times, Walker was stuck in no-man's land. When the ball is hit cross-field from the opposite side of the pitch, as a full-back you have to be in a position where, if the winger takes a touch, you can get tight to him. I don't think Walker did that enough.
It was a game in which the Tottenham full-back needed to concentrate on defending. He did not have the cover that left-back Ashley Cole had with Milner, so with Walcott as the attacker in front of him, Walker needed to stay tight and narrow.
It will be a valuable experience for him and Liverpool right-back Glen Johnson, another key player, will come back in once he has recovered from injury.
England's defence weathered the early spell of pressure from Ukraine and established a decent standing in the game but when they needed the composure and creativity to take them forward, they came up short.
Hodgson will hope that the Wembley crowd will inspire his players in their last two qualifying games against Montenegro and Poland next month otherwise they can forget the World Cup in Brazil.