Scotland can build on impressive win - Pat Nevin
Last updated on .From the section Football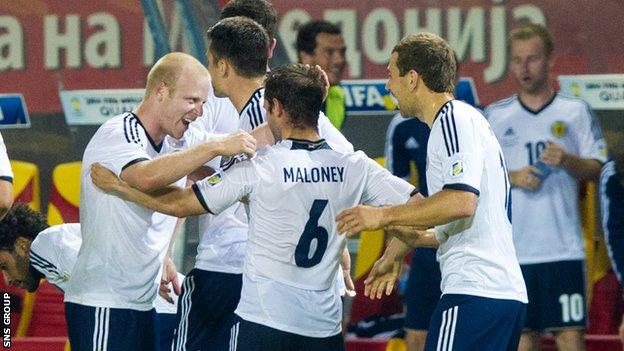 Scotland are making good progress under manager Gordon Strachan and can look forward with confidence, according to former international winger Pat Nevin.
"I'm not surprised that we won," said Nevin. "We've been playing a little bit better as we've gone along.
"But we played so incredibly well - really outplayed Macedonia, almost off the park."
A wonderful late free-kick from Shaun Maloney sealed what was only a second World Cup qualifying win for Scotland and lifted Strachan's men off the foot of Group A.
The impressive Ikechi Anya marked his first start with a fine goal, but the hosts drew level after 83 minutes after a deft finish from Jovan Kostovski.
"It would have been such a shame if Scotland had not won after the equalising goal," added Nevin.
"For the most part, certainly all of the first half, Scotland were the better side by a long way.
"We were the better side playing really quite classy football - on the deck, confident, with great belief in each other.
"And that is definitely something Gordon Strachan has brought to the group."
Strachan took over from Craig Levein four games into the campaign, with Scotland having amassed a mere two points.
That tally has improved by six points in the five competitive games overseen by the former Celtic boss.
Match-winner Maloney spoke of slow improvement after the win in Skopje and Nevin agrees that it is prudent to temper expectations, given Scotland's prolonged absence from major tournament finals.
"So often it is feast or famine with Scotland," said Nevin, who won 28 caps. "We are either the best in the world or the worst.
"The manager would have noticed the Tartan Army going absolutely ballistic, because they really enjoyed the win.
"But it has to be calmed down. We've got another game left in this campaign - a tough one (at home to Croatia).
"It's about getting everything ready for the next campaign.
"So many times we've watched Scotland in the past and if we've got a win, we've sneaked it because we've worked hard and been organised and it's not been great football.
"Last night it looked like really good football.
"I don't think anyone played badly. There were a lot of sevens and eights out of 10.
"As for Ikechi Anya, how many do you give him out of 10?
"When was the last time Scotland had a forward with real pace? Not just someone who is a bit quick.
"He's the first one we've had for almost a generation and, boy, does it make a difference."
Following Friday's 2-0 home defeat to Belgium, Strachan spoke in envious tones of the height and power of the group leaders, but his team in Macedonia had a diminutive look.
And Nevin laughed: "I didn't expect (Barry) Bannan, Anya, Maloney and (Steven) Naismith all to start because they are all about my height!
"It's quite an ask in international football, but Strachan believes in his players and tried to keep the ball on the deck most of the time.
"Naismith worked so well. He wasn't considered the answer up front by most people but he was winning balls in the air.
"The manager will try one or two more tweaks so, when we get to the next campaign, he's just about got everything ready.
"If you bring back one or two of the players that are injured, it's beginning to look like a decent strength of squad.
"It may well take another campaign - it all depends on the draw - but you never know, maybe it will be the next one."