Price of Football: 'Fans are the football club' - Pompey
By Karen Fazackerley
BBC Sport
Last updated on .From the section Football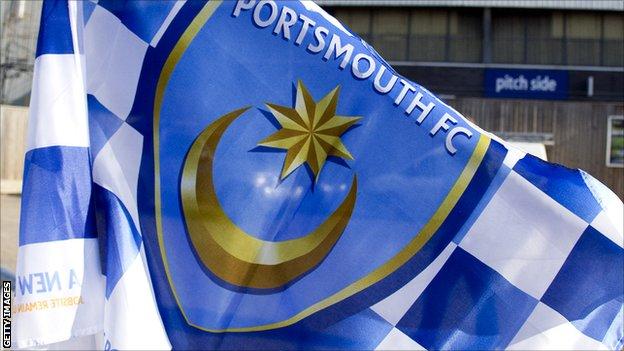 After some traumatic years on the south coast, Portsmouth fans are now looking forward to concentrating on their football rather than their finances.
But in April 2013, a settlement was struck between the club's administrators and the club's main creditor Portpin, finally clearing the way for the Pompey Supporters' Trust to make Portsmouth the biggest community-owned club in Britain.
However, the deal came too late to stop the club's relegation to League Two and they must now rebuild from the bottom tier of English League football.
Micah Hall, a stalwart fan of the club, spent those four troubling years writing blogs examining who the owners were, their motivations and what they were doing to the club. He has since been appointed Pompey's engagement manager, and he believes fans now have something positive to look forward to.
"Being able to actually be a part of the team as opposed to being outside the tent giving advice to people who often weren't listening or were powerless to act is a massive buzz and we have barely begun," Hall said.
"Fans are not important to a football club, they are a football club.
"That applies to any club but some know it more than others."
After winning the FA Cup just over five years ago, Portsmouth fans know more than most just how fickle football can be.
From watching the likes of David James, Sol Campbell and Jermain Defoe in recent years at Fratton Park, last weekend saw the side draw 2-2 at Cheltenham.
But still their loyal fans remain, averaging the highest attendances in League Two this season at 16,257.
"This is where the fans come in, when it is time to rescue and rebuild. Fans have money to put into a football club, which they never expect to see again, which automatically puts them ahead of everyone else," Hall said.
"Fans know and love their club and are prepared to put in a lifetime of hard work."
Fire-sales of the team saw the squad decimated and in July 2012, then-manager Michael Appleton was left with unsigned players and the youth team to take on their pre-season tour of Gibraltar.
Hall, though, believes the club has turned a corner and must learn from its past mistakes.
"If you want to make money there are so many ways to do it. Put it into a football club and very likely you'll never see it again," said Hall.
"Speculative finance corrodes football clubs because, like at Portsmouth, you actually end up owing 90% of your debt to former owners who gambled on making money and failed.
"Their inability to kiss it goodbye took us from the Premier League to League Two."
Pompey became the only club to enter administration while still in the Premier League in 2009 when then-owner Alexandre Gaydamak stopped funding the club which had won Harry Redknapp's big-name side the 2008 FA Cup.
But after years of fundraising and fan membership, the Pompey Supporters Trust - including 11 local businessmen who put in £1.7m - emerged victorious from the High Court earlier this year after another former owner, Balram Chainrai, agreed to sell Fratton Park for £3m.
"Any fanbase typically has more business expertise, more legal knowledge, more marketing savvy, more caterers, more accountants, more bankers than any consortium of a few individuals can claim," Hall said.
"We are fans. We are also business people. That's a powerful combination."
Hall's forward-thinking approach is clear, and the club is now focussing on how it can improve its fanbase, facilities and training ground.
With the PST still burdened with debts left by former buyers - the club still owes £8m to football creditors from Vladimir Antonov's ownership of the club, although a repayment plan is in place - Hall says it is now more important than ever for the club to focus on the future.
"For a football club to grow sustainably takes decades of painstaking work, growing and retaining fan-base, managing costs and building long-term stability on the football side.
"We want to be the best. In the coming decades the clubs with the biggest fanbases and the best infrastructure will be challenging. It might take 20 years to get halfway there, but that is no reason to be defeatist, it's a reason to get on with it.
"We will try to make the club better in some way each and every day, and see where the aggregate of sustained improvements can take us."