Luxembourg defeat a new low for Northern Ireland

By Joel Taggart
BBC Sport NI
Last updated on .From the section Football138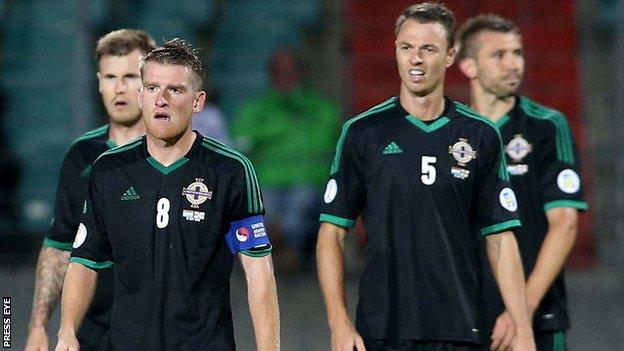 You always know it's been a brilliant result, or a completely disastrous one, when you get a text saying your commentary has just been on the Chris Evans breakfast show on Radio 2.
Surely we should be capable of beating a team ranked 48th out of the 53 teams in Europe?
Luxembourg had not won a qualifier at home since 1972 - a run of 43 matches - but they deserved their victory in the Stade Josy Barthel.
Northern Ireland beat Russia two games ago, and had gone toe-to-toe with Portugal at Windsor Park on Friday night.
But they were made to look very ordinary by Luxembourg and what a disappointing night it turned out to be for the 1200 NI fans who made the journey.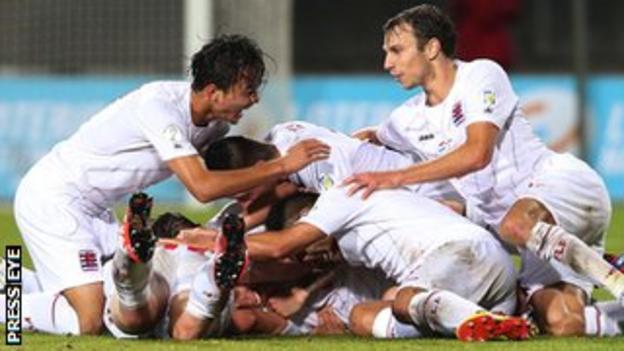 They will have gone home disappointed after watching a performance which, let's be honest, was pretty poor.
On the morning after, the stern look on the faces of manager Michael O'Neill, his assistant Billy McKinlay and goalkeeping coach Maik Taylor still said it all.
We were now at London Heathrow, but the management team could barely contain their anger and frustration at the events of the night before.
The players looked sheepish, keen for the sanctuary of home, and well aware of the embarrassment the result had brought.
O'Neill had handshakes for all of his squad and, no doubt, he was hoping those faces would be back to restore pride in the closing double-headers away to Azerbaijan and Israel. An opportunity to right a wrong.
One Northern Ireland supporter summed it up nicely when he said: "We're great at David versus Goliath matches, but not so good when it comes to David versus David."
Luxembourg's squad contained only four full-time professionals, the rest part-timers.
It is hard to get your head around this when you look at Northern Ireland's last two home performances.
However, in my heart of hearts, when people asked me before the game if I was feeling optimistic, I had to say no. That's because a performance like this is always going to happen.
Looking at Luxembourg's celebrations after the game, it almost looked like they had qualified for the World Cup finals. That is how much beating Northern Ireland - beating anybody actually - meant to them.
They had waited 41 years for a home win in a World Cup qualifier. Forty-one years - and it happens against us!
As their players were doing a lap of honour around the pitch, O'Neill's men were trudging back to their dressing room to reflect on a footballing disaster.
For Northern Ireland, this is a new low.