'Putting prices up impossible,' says Wigan owner Dave Whelan
Last updated on .From the section Football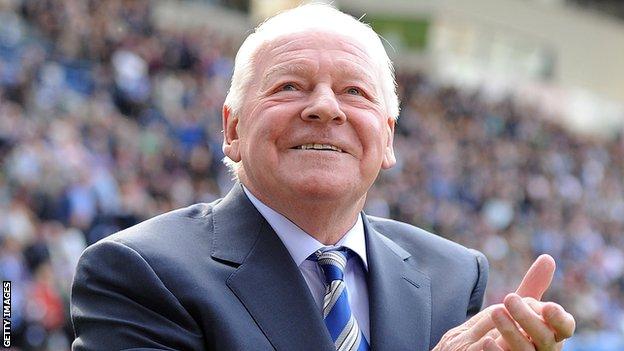 Wigan Athletic chairman Dave Whelan believes hikes in football ticket prices are impossible in the current economic climate.
The BBC's Price of Football study, which looked at prices at 166 clubs in the top 10 divisions across the UK, has found average ticket prices have fallen by 2.4% in 2013.
"It's difficult at the moment to put any prices up," said Whelan.
"Our area is running at eight or nine percent unemployed and it's impossible to ask anyone to pay anymore to watch football."
Prices of individual and season tickets are down on average across all four of England's top divisions.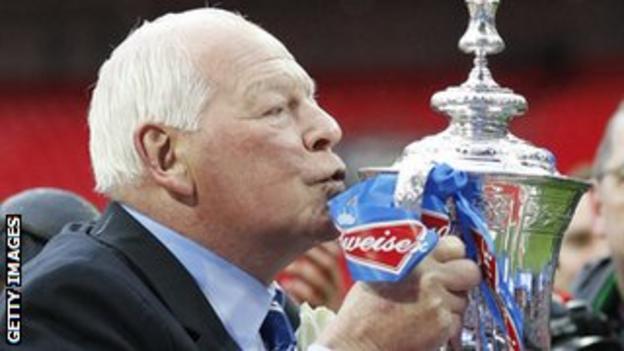 A stark contrast to last year's findings where the cheapest adult ticket price rose by nearly 12%.
Arsenal remain the country's most expensive club to watch, with top prices for matchday tickets and season tickets costing £126 and £1,955 respectively.
"When I hear what they have to pay to go and watch the big clubs, I do wonder how they wear and bear it," added Whelan, whose side were relegated from the Premier League in May.
"It's an awful lot of money and the clubs get so much money from Sky that sometimes I think why do they do this to the public? They should let the public get in for a reasonable price, but they sell out, so can justify it by saying it's supply and demand."
Wigan increased the prices of their season tickets by £25 following relegation, but fans will see four more home fixtures and have been given entry to three Europa League home matches for free.
Adjusting prices were just one of the business issues facing last season's FA Cup winners following their demotion from the top flight with Reading and Queens Park Rangers, but all three clubs benefited from improved parachute payments as a result of the Premier League's record TV deal.
Each will receive in excess of £60m from the Premier League over four years.
"If we didn't get help from the Premier League when we get relegated, a lot of clubs would go into bankruptcy, I don't think there's any question about that," added Whelan, who bought Wigan when the club was in the fourth flight in 1995.
"And when you're in the Premier League, players wouldn't sign for you if you had to tell them you'd reduce their wages by say two thirds if you go down. So the parachute payment is totally necessary to keep the relegated clubs going."
Attendances at Wigan's DW Stadium are down after the club returned to the Championship for the first time since 2005.
A fall in crowds is however a common feature across the football leagues 72 clubs, with the average gate of 9,481 representing a near 5% year-on-year fall.
Portsmouth, Port Vale, Coventry City and Aldershot Town all entered administration last season and clubs lower down the football league pyramid need help from on high according to Whelan.
"Should the Premier League pass more money down? I think there is a case for that yes," he added.
"That's got to be discussed and a fair solution to it found I feel.
"Whether the Premier League will vote for it or not is another matter, but if we want football throughout the four divisions to thrive, I think it's inevitable that the Premier League should pass some money back down."