Samuel Eto'o on childhood, Chelsea & England's 'big names'
Last updated on .From the section Football
Samuel Eto'o can still draw a crowd.
The Chelsea striker is surrounded by friends and well-wishers from the moment he arrives in this hidden corner of a swish London hotel.
He has not had much sleep, having flown through the night from his native Cameroon to the city he will call home for the next year.
He pulls a baseball cap down over his weary eyes, but smiles warmly as he greets everyone in the room in French and then broken English before he slumps down next to me on a black leather sofa.
As we prepare to discuss his childhood and his move to England, something catches his eye. The unmistakeable figure of Evander Holyfield has appeared in the doorway and is making straight for us.
The former world heavyweight champion has heard that one of the world's greatest 'soccer' stars is in the building and wants a picture. Flashbulbs light up the room for a minute or two as they shake hands, pose with clenched fists and smile.
Have the men met before? "No," Eto'o tells me. "But he says he likes me, he's a fan."
There are those who claim that, at 32, Eto'o's best years are behind him - a career that includes an Olympic gold medal, three Champions League titles, two Africa Cup of Nations and four African Footballer of the Year awards - but here is evidence that he remains a truly global sporting superstar.
He has been learning English for a few months now but, speaking through an interpreter, plays down his growing ability with the language as we sit overlooking the bustle of Leicester Square. It is raining heavily.
"It is an honour for me to be here in England," he tells me. "In my career I honestly never thought I'd actually come here to play."
His record for his last three clubs speaks for itself: 129 goals and 35 assists in 201 appearances for Barcelona, 53 goals and 22 assists in 101 appearances for Inter Milan, 36 goals and 14 assists in 71 appearances for Russian club Anzhi Makhachkala. And 55 goals in 113 matches for Cameroon.
Does he really believe his best years are in front of him? "Always," he says with a smile.
Eto'o is here to discuss his book - the first of nine graphic novels about his life.
This one, Birth of a Champion, focuses on his formative years in Douala, the largest city in Cameroon.
He was the son of an accountant and while the family were not rich, they lived better than many in a country with widespread poverty.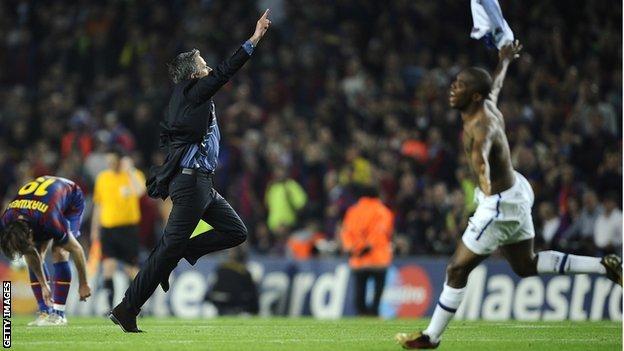 The summer after his birth, Cameroon became the first country from sub-Saharan Africa to return undefeated from a World Cup when they impressed in Spain.
Eight years later, Roger Milla became an idol across the continent when he starred at Italia 90.
The then 38-year-old striker scored four goals as Cameroon reached the quarter-finals before being knocked out in extra-time by England.
Eto'o's childhood nickname reflected his hero. "They called me little Milla," he says. "He was one of the best in the world, not just in Africa. A lot of us think he did not win the best player in the world award just because he was African.
"It was an honour to have the name - he was an inspiration."
Milla became a cult hero and scored again for the Indomitable Lions four years later in the United States.
But Eto'o has not only surpassed Milla's achievements, he can legitimately claim to be the finest African-born player since the great Eusebio, the Portugal legend raised in Mozambique.
His book charts his rise from street footballer in Douala to the best young player in Cameroon. The cartoons are drawn by author and artist Joelle Esso, who had little to work with because the Eto'o family could not afford a camera and therefore had no pictures for reference. "I had to use my imagination," explains Esso.
The story portrays the moment Eto'o was first paid to play football. The prodigious teenager surprised his family by telling them he had been offered the equivalent of £130 a week to play for a local club. He remembers his father asking: "Can you really get so much from playing football?"
For the past three years, Eto'o has been the highest-paid player in the world at Anzhi, earning £17m per year. (He took a £10m a year pay cut to join Chelsea and rejoin his old Inter boss Jose Mourinho.)
Much of Eto'o's money has gone into his foundation, which funds development work in Africa, as will the proceeds of the book.
"Money is not the most important to me," he says.
"The money I have earned has given me the opportunity to give back to the people who do not have the same opportunities as me."
The move to Chelsea reunites him with a manager with whom he has a special relationship, the pair having won the Champions League together at Inter in 2010.
"He is more than a coach for me. He is a man who talks the language of truth," he says of the Portuguese. "It is really important to have someone who tells the truth all the time.
"In our business sometimes we have people who don't want to go that way. I feel that we are talking the same language."
It was a call from Mourinho that prevented Eto'o joining Manchester City in 2009, when then manager Mark Hughes moved to partner the Cameroonian with Carlos Tevez. "Before I signed for Inter, I was really close to joining City," he says.
"But once again I got this fabulous call from Jose Mourinho and the magic just happened.
"When I was leaving Barcelona all my friends and family were saying to me 'you should go to England - it is one of the best leagues, with some of the best players' - but the chance to join Jose then was too strong."
A crowd has begun to build in the corner of the room, craning their necks to catch a glimpse of the man on whom all the camera lenses are trained. But Eto'o presses on. Who is he looking forward to playing with or against in England?
"That is very difficult to say - there are so many big names. Steven Gerrard is one, he is the guy here. But there are people like Ryan Giggs who have made history here and Frank Lampard, of course. These are the guys from my generation but I can't wait to play against some of the best players in the world."
Eto'o's book closes one chapter on his early life, but another is about to open. England expects, but so too does Eto'o.