Gary Lineker backs Roy Hodgson as England manager
Last updated on .From the section England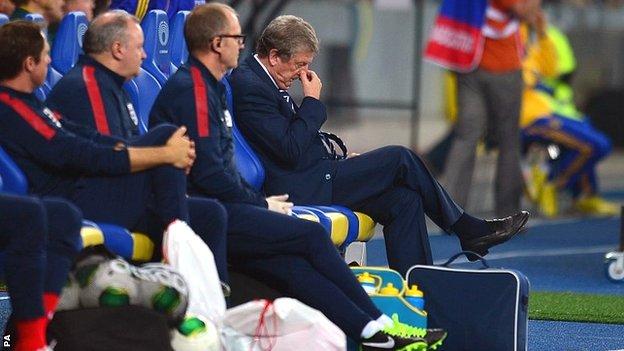 Gary Lineker has insisted he backs England manager Roy Hodgson despite criticising the team on Twitter.
The ex-England captain said: "Awful. What happens to some of these players when they pull on an England shirt?"
But a day later he wrote: "I'd like to make it clear I'm fully supportive of Roy and think he's doing a good job."
England will secure qualification for next year's World Cup in Brazil if they win their remaining two qualifying matches, which are both home fixtures, against third-placed Montenegro on 11 October and fourth-placed Poland four days later.
Hodgson, 66, who was appointed England boss on 1 May 2012 and guided the team to the quarter-finals of Euro 2012, defended the team's display in Kiev, saying: "Before the game, the feeling among a lot of people was that a draw would be a good result.
"I'm surprised to hear what I thought was a good performance and result might be being seen as an underwhelming performance."
Another former England striker to voice his disapproval was Michael Owen, who said: "In terms of qualifying for the World Cup, tonight's result was very good. In terms of looking to the future, it's hard to be positive."
And ex-Liverpool midfielder Dietmar Hamann said: "Football is a team game, you need players who complement each other. England is not a team. No structure no sacrifice for one another."
All three questioned why Manchester United midfielder Michael Carrick was not in the England team, with Lineker writing during the match: "When you see England pass it like they've never been introduced to each other, it does make you wonder why Carrick doesn't feature."
But the Match of the Day presenter, second only to Sir Bobby Charlton in the all-time England goal-scoring list with 48 goals in 80 appearances, used his Twitter page again on Wednesday to write: "Decent result from a team missing a few key players.
"My only criticism, but it's a crucial one, was the inability to pass the ball accurately. Effort, defence, tactics, spirit, all sound.
"Roy Hodgson can't be blamed for some of England's finest having a bad night. With injured players returning his options will be greater.
"He may play Carrick as he's the only natural holding player we have, as well as our best passer. But who to leave out? Age old dilemma."