Price of Football: The Premier League - then everybody else
Last updated on .From the section Football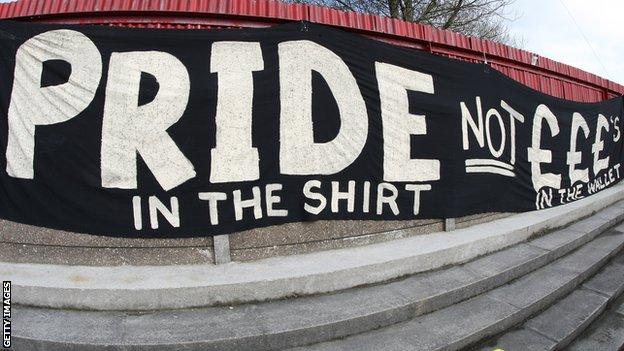 Can you remember your first day at big school?
The itchiness of the uniform, the menace of the older kids, the seriousness of the teachers. It was exciting, wasn't it? You might have felt alone, but you also sensed this could become freedom.
It is a moment Accrington Stanley have not forgotten.
Towards the end of last season, another that saw the club finish bottom of the Football League attendance rankings, the board wrote to the headteachers of local primary schools, asking them to forward the following offer to that summer's leavers: a free season ticket at the Crown Ground.
Sandwiched between Blackburn and Burnley, and immortalised by the "who are they?" Milk Board advert of the 1980s, Stanley know theirs is a tough sell, let alone giveaway.
So they have also slashed the price of their cheapest season tickets by 25% to £192 (£8.35 a game) to introduce themselves to the two generations of locals who grew up thinking of Stanley as a Lancashire Combination League team.
The early signs are mixed. Only 42 newly independent youngsters have claimed their free passes, but the club have nearly matched last year's season-ticket figure of 529, and are optimistic they will pass it. Hope springs eternal at Stanley, it has to.
That is the message you hear throughout British football, because life outside the Premier League's gated community is not getting any easier.
The BBC's third annual Price of Football report has uncovered hundreds of stories from the 166 clubs surveyed, but the common strand is that there is the Premier League, and there is everybody else.
In English football's top flight, revenues, spending, attendances and ticket prices are up: income and investment, supply and demand. The same, however, cannot be said of those pressed up against the railings trying to get in.
Average attendances fell in the Football League for the second straight season, down an average of 5% on last year, and 9% on 2009-10. Gates in the Premier League rose by 4% last season, and the grounds were 95% full.
The frequent "sold out" signs have enabled Premier League clubs to raise the price of their cheapest season tickets by 4%, another increase at a time when many fans have seen their earnings chiselled away by pay freezes and below-inflation pay-rises.
But beyond Planet EPL, clubs are discounting hard to tempt back those fans who have decided live football is a luxury they cannot afford, particularly when there is so much of it on television.
The average cost of the cheapest adult season ticket in the Championship is down 8.4% on last year. In League One, where gates were down 14% last year, a season ticket is 1.6% cheaper, and in League Two it has been cut by 7.6%. Thirteen teams have sliced their entry-level season ticket by a staggering 20% or more.
"Around three-quarters of clubs have reduced their prices or kept them at the same level as last season," said Football League chairman Greg Clarke.
"I think this is a case of clubs responding sensibly to what has been a challenging economic period."
The downward pressure on prices has come as little surprise to footballer-turned-accountant Trevor Birch.
"The continued squeeze on household budgets means the vast majority of clubs are having to work harder to attract families and younger fans," said BDO's Birch, a former chief executive at Chelsea, Leeds United, Everton and Derby County.
"Clubs realise they're not going to get more people through the turnstiles unless they reduce pricing, particularly for less attractive fixtures and those that have been moved from the traditional 3pm slot."
Work harder, cut prices and think laterally: that is the picture that emerges from the Price of Football.
Preston North End are dishing out 4,000 free tickets to children with a perfect school attendance record. Walsall are selling a £46 season ticket to teenagers that gives you £2 back every time you use it. And Blackpool have sold thousands of season tickets at £195.30, a huge discount to commemorate their FA Cup triumph in yes, you guessed it, 1953.
"We just felt it was important that we gave the supporters a 'thank you' for their loyalty," said Blackpool chairman Karl Oyston.
"The company has done well financially so this is something we could afford to do, and you can't underestimate the current economic climate."
Even Arsenal, Britain's most expensive club to watch, have responded to criticism by introducing a Young Guns section at most weekend league games. A thousand 12 to 16-year-olds can now see their heroes play for a tenner.
"For many years, the pricing of tickets has not been used strategically or tactically by clubs as a basis for building fan-engagement or loyalty," said Simon Chadwick, a professor of sports business strategy at Coventry University.
"But clubs have started to think more creatively about how they can use innovative pricing to induce more fans to attend, and the BBC's evidence suggests it is starting to work."
Chadwick also points out that lowering prices is not just a good way of keeping your gates up; it can make you more money.
"Lower prices and more fans can mean an increase in overall revenue, and there is also the secondary spend to consider: club merchandise, food and drink and so on," he said.
"More people at games can also put you in a better position to attract sponsors, advertisers and corporate clients."
The "less is more" message has been heeded at Bury, where the club's new owner, Stewart Day, has cut prices across the board. A £60 discount on last year's season ticket has meant the club has sold 1,250 more, worth an extra £200,000 in revenue.
But as well as the "secondary spend" and marketing benefits of lowering your prices, there is also an increased attraction to broadcasters.
Premier League clubs do not share £1.6bn a year from TV on the quality of their football alone; that helps (hence the record £630m they spent on players this summer), but viewers around the world love our packed grounds and noisy away ends. It is not quite legendary Celtic manager Jock Stein's famous remark about football being nothing without fans, but televised football is not the same without travelling fans.
This is why Premier League bosses have quickly responded to the only sign of weakness in their attendance statistics, a 1.5% fall in the number of away fans last season. The clubs have been given until the end of September to come up with plans to address this, and a £200,000 carrot for doing so.
Stoke City were first out of the blocks, saying they would offer free coach travel. As a result, they took a full allocation of 3,000 to Liverpool for the first time on the opening weekend of the season.
Fulham were one of only two clubs not to sell their full allocation that weekend, but did double the number of fans they normally take to Sunderland by providing free coaches, a pub lunch and a guest bartender in the shape of former player Luis Boa Morte.
"The new broadcast deal has given top teams the wherewithal to address fans' concerns about pricing," said Birch, who spent most of 2012 as Portsmouth's administrator.
"The more forward-thinking clubs are sharing part of this windfall with supporters. We are likely to see more of this in the future as other clubs realise the benefits of sharing their good fortune with their fans."
Birch is right. Match-day tickets for £15 at Newcastle United, "kids for a quid" games at Fulham and West Ham, and a £287 season ticket at Scottish champions Celtic demonstrate that even the wealthiest are listening.
When you consider the £50 it costs for entertainment and food at Alton Towers or Legoland, £20 for the same package at table-topping Inverness Caledonian Thistle seems like decent value.
But there are those who think it could and should be even better.
Steve Powell, director of policy at the Football Supporters' Federation (FSF), greeted our report's findings with "two and a half cheers".
"We're pleased clubs are belatedly recognising that if football is to continue as the people's game it has to be affordable," said Powell.
"But our prices are still extremely expensive compared to football elsewhere in Europe."
The FSF has been running a Twenty's Plenty campaign for away tickets, pointing out that free coach travel does not help fans who live away from the area. It has also highlighted the ways some clubs circumvent rules on overcharging away fans, particularly those of big clubs.
Yet still they come. And it is hard to get too angry with a club like Liverpool for charging £38 for a ticket, when Anfield is 99% full and they are trying to regain Champions League status under the spending constraints of Financial Fair Play.
When you think of it like that, Liverpool's problems are not so different to Accrington Stanley's.
A club director might not pick up the phone at Anfield and say "hold on a minute, I've just got to finish an email to the Football League… right, I'm the only one here, what can I do for you?" but both clubs know "an empty seat spends no money" and "your gates are only as good as your results".
Perhaps we are all in it together.