FA rejects Stuart Pearce criticism of England Under-21s
Last updated on .From the section Football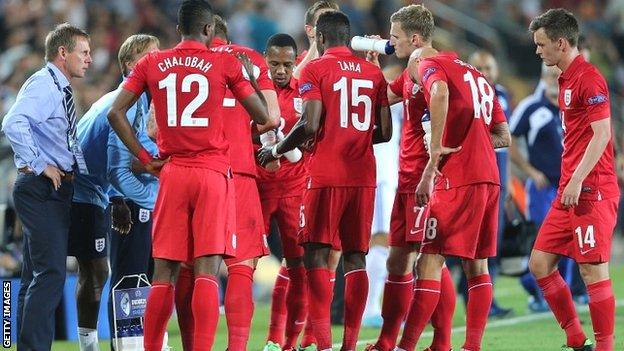 The Football Association has said it is "disappointed" by criticism of England Under-21 players' attitudes from former manager Stuart Pearce.
He said: "Apathy played a big part. Once through the ivory towers of the seniors they don't want the U21s."
In a statement, the FA responded: "Squads were decided upon by coaching staff, including Stuart Pearce."
The statement added: "It is unfair to criticise individual players. All selections were management decisions and were not taken by individual players."
Pearce was without several players for the ill-fated European Championship campaign in Israel.
Luke Shaw, Callum McManaman and Raheem Sterling were all unavailable because of injury, while Tottenham winger Andros Townsend withdrew for personal reasons after being fined and suspended for breaching FA betting regulations.
Jack Rodwell, Kyle Walker, Phil Jones, Alex Oxlade-Chamberlain, Jack Wilshere and Danny Welbeck were all called up to the senior squad for friendlies against the Republic of Ireland and Brazil.
"In our wildest dreams, do you honestly think England or any nation in the world can turn up at a major tournament without six or seven - I think there were eight players with senior international caps that didn't actually come who could have played for the Under-21s this summer," Pearce told Sky Sports News.
He claimed there was "a lack of real passion to play for your country" among the players and said the reasons could be "the powers, the Premier League [or] the finance they get at such a young age".
"We have to solve that problem," he added.
Wales international Gareth Bale, who earlier this month completed his world-record move from Tottenham to Real Madrid, also came in for criticism.
Recalling his role as London 2012 men's Team GB coach, Pearce felt Bale, who withdrew from last summer's London Olympics because of injury, was less than enthusiastic about competing.
"I spoke to [Bale] seven months prior to the Olympic Games [saying] I'm going to put the squad out on Friday morning. On Thursday he rings me and says his back's not so good, he's going to have to pull out of the squad.
"He plays his first game for Tottenham pre-season the same day we play our first Olympic game. The brightest talent in Britain at the time didn't want to go to the Olympic Games. And he wasn't alone.
"You ask the 23 players that went to the Olympics - you ask (Craig) Bellamy, (Ryan) Giggs - players of that ilk - what they felt about the Olympic experience, and they'll say arguably it could have been the best experience of their life on the football pitch."