Price of Football: Premier League clubs 'can do more' on pricing
Last updated on .From the section Football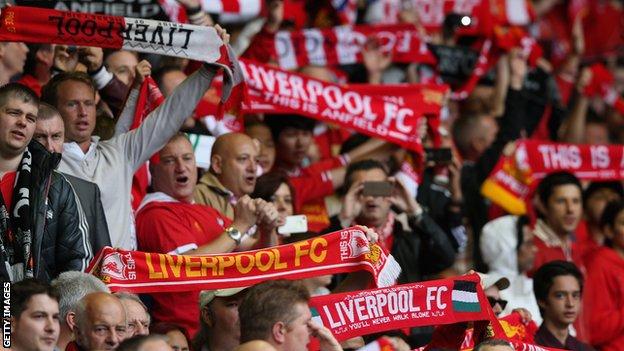 Premier League clubs missed the chance to significantly cut ticket prices after agreeing a record £3bn television deal, according to Football Supporters' Federation chairman Malcolm Clarke.
The BBC Sport Price of Football study found the average cost of the cheapest top-flight season tickets rose by more than 4%, though there were cuts in the three other main categories.
Clarke acknowledged progress had been made by clubs, but added: "There is plenty of scope to do much more than they have already done."
The sale of the Premier League broadcast rights, on a deal running for three years from the start of this season, brings clubs an extra £600m revenue across the top flight.
The FSF had called for the extra cash to be used to drastically cut admission prices, but during the transfer window Premier League clubs spent a record £630m on players.
Average ticket prices across English football's top four divisions fell up to 2.4% in the past year, while in the top flight there were cuts to the average price of the cheapest match-day tickets and both the most expensive season tickets and match-day tickets.
Clarke said: "The Premier League has had an eye-watering increase in its media income. For example, they could knock £50 off the price of every single ticket of every single game for every single spectator in the Premier League this season and still have the same amount of money as they previously had.
"It is good news the average ticket prices have gone down after years of the runaway train going quite crazy on football ticket prices. We need to see more action on it because we don't live in easy economic times.
"Our message to the Premier League is 'you have huge money, you have done a bit but you can do much more'."
Last year's Price of Football showed the average price of the cheapest ticket in English football had gone up by 11% - four times the rate of inflation.
More than half of the clubs in the top flight have either reduced or frozen the price of their cheapest match-day ticket for 2013-14, while only seven have increased the cost of their most affordable season ticket.
Arsenal sell the most expensive match-day ticket in English football, priced at £126, while Liverpool's cheapest match-day ticket is the costliest in the division, at £38.
James McKenna, from the Liverpool fans' group Spirit of Shankly, said: "For a club in this city, given the socio-economic circumstances, to have the most expensive 'cheap' ticket, as well as a 'cheap' season ticket that only ranks behind two London clubs, it just shows how dislocated the club has become from its own city.
"We keep hearing about Financial Fair Play at football clubs and the need for sustainability. Where's the financial fair play and plans for sustainability for supporters?"
Liverpool University's Professor Tom Cannon, a football finance expert, has urged clubs to recognise the sport remains "at its heart a working-class game" by agreeing a consistent ticket-pricing policy.
"Pressure for change will grow if no efforts are made from the authorities to control ticket prices," he said. "There are clubs, Manchester City for example, which work very hard to keep prices down and make offers. Others have cheapest ticket prices wildly out of kilter with clubs in their area.
"All the clubs need to agree a policy which is consistent and needs to reflect the fact the working people need someone to look in their direction and say, 'you create the atmosphere and it is your children who will be the next generation of supporters'."
Dave Whelan, chairman of FA Cup winners Wigan, says player wages "dominate" how much clubs have to charge for tickets.
He added: "A lot of people think that players are overpaid, and there's a great argument for that. But the Premier League is watched all over the world, and I think those players deserve every penny they get.
"An enormous amount of money goes into the Premier League, and we've been there and we accepted it. But I think overall, for football, we have to start looking and thinking a bit more fair, and distribute 5% of what the Premier League get down to the other divisions."
Despite concerns over ticket prices, the average Premier League attendance in 2012-13 was 35,975 - up from 34,646 the season before. In addition, there were record season-ticket sales of 476,776.
Premier League chief executive Richard Scudamore said the figures were helped by clubs working hard to ensure top-flight football is "accessible and affordable to as many people as possible".
He added: "That sets a high bar - one that both we and the clubs are determined to maintain. That is why clubs are looking at a range of innovative and inclusive offers to encourage high-attendance, particularly for younger fans and away supporters."
The BBC Sport Price of Football - the biggest study in British football - includes the prices of 164 clubs in the top 10 divisions. Five leagues in England, four in Scotland and the Women's Super League were studied - only Scottish League Two side Rangers and Lincoln of the Conference Premier did not take part.