FA threat to fans over anti-Semitic term in chants
Last updated on .From the section Football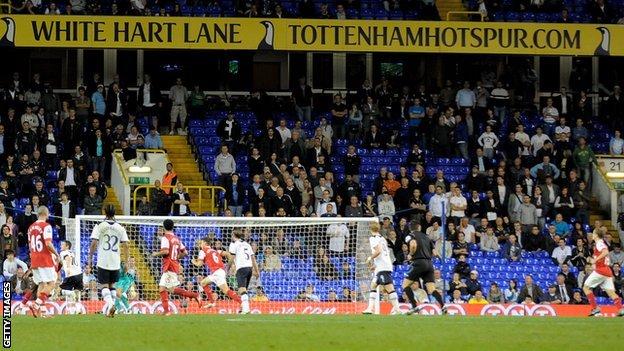 The Football Association has warned that any fan caught chanting the word "Yid" could face criminal charges.
The anti-Semitic term has been aimed at Tottenham fans due to the area's large Jewish population and Spurs supporters sing "Yid Army" as a form of identity.
In a statement the FA said: "Use of the term 'Yid' is likely to be considered offensive by the reasonable observer.
"Use of the term in a public setting could amount to a criminal offence and leave fans liable to prosecution."
It added: "The FA would encourage fans to avoid using it in any situation."
Tottenham fans were twice subjected to racially-motivated attacks during their Europa League campaign last season, leading to questions as to whether their continued use of the terms were counter-productive.
In November, two Roma fans were banned from all sporting events for five years after Spurs fan Ashley Mills, 25, of Essex, was stabbed in the thigh.
And in February three men believed to be from a far-right group were arrested after an attack on Tottenham fans in a bar in Lyon in which a 51-year-old supporter from Derbyshire was one of three taken to hospital.
In addition, two West Ham fans were arrested and accepted a police caution for anti-Semitic gestures during their team's 3-1 defeat at White Hart Lane in November, one of whom was given a lifetime banning order by the east London club.
There have been previous attempts to ban the use of the term by football fans.
In April 2011, comedian, writer and Jewish Chelsea fan David Baddiel wrote a one-minute film entitled "Y-word" as part of the Kick It Out anti-racism campaign featuring then Tottenham captain Ledley King, as well as former Spurs striker Gary Lineker, England international Frank Lampard and Arsenal's Kieran Gibbs.
And in November last year the head of the Society of Black Lawyers, Peter Herbert, said he would complain formally to police if Spurs failed to take action to stop the chants.
In the wake of the FA's latest stance, a Tottenham statement said: "We are acutely aware of the sensitivity of this issue.
"Our fans historically adopted the chant as a defence mechanism in order to own the term and thereby deflect anti-Semitic abuse. They do not use the term with any deliberate intent to cause offence.
"We recognise that this is a complex debate and that, in the interests of encouraging a positive and safe environment for all supporters, consideration should be given to the appropriateness and suitability of its continued use.
"We are already in the process of engaging with our fans and shall be consulting more widely in due course."