Jim Magilton says NI players let Michael O'Neill down
Last updated on .From the section Football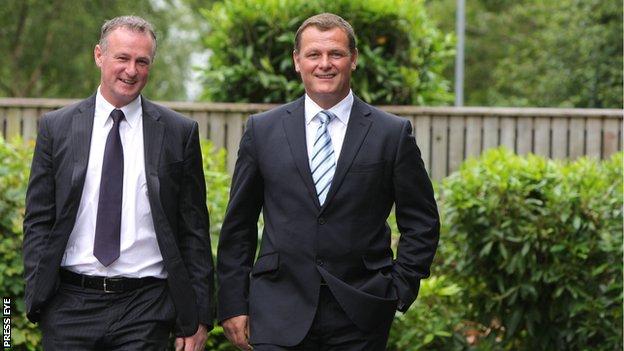 IFA Head of Elite Performance Jim Magilton has reminded the Northern Ireland players the humbling 3-2 defeat to Luxembourg "is on their CV".
Magilton believes manager Michael O'Neill cannot be blamed for the loss to a side who had not won a World Cup qualifier at home since 1972.
He said the defeat on Tuesday was solely down to the players.
"You pick your side, you cross the white line and you hand your trust over to them - they let him (O'Neill) down."
Magilton says there can be no excuses from a group of players who beat Russia in a World Cup qualifier last month, and led 2-1 against Portugal last Friday before succumbing to a hat-trick from Cristiano Ronaldo.
"Confidence had been built up after a top-class performance against Russia, and for 60 minutes we were really in the game against Portugal," he told BBC Radio 5 live.
"Going into the Luxembourg game, I would liken the approach to that of a top Premier League side going to a lower league side in an away FA Cup third round tie.
"It's all about attitude, I think it's all about the right approach. The recovery aspect of the travelling and everything taken into consideration, the players would have been well prepared.
"So there are no excuses at the end of the day."
Magilton said he did not know if the players had apologised to O'Neill in the dressing-room after losing to a team ranked 140 in the world.
"I would imagine that afterwards, senior players in the dressing-room would have vented their frustrations.
"There is pride, because not only is it on the manager's CV, it's on their CV as well.
"So there has to be personal responsibility, personal pride in their own performance, and they'll go away reflecting on his (O'Neill's) words and on their own performances.
"He (O'Neill) would have been angry with the team's performance.
"He probably felt particularly let down.
"Players will go away recognising they have to do better, there is no doubt about that."